Lite-On announces the introduction of a new series of portable external slim DVD writers: the eTAU108.
The eTAU108 is an ideal solution for those who own a notebook without an optical drive included, but who still want to burn files to discs, playback content, and access data or install software from CD or DVD discs.
Portability is the key for this new external DVD writer, which suits the mobile user. Power supply comes directly from the notebook through the enclosed USB cable, so there is no need to be close to a power socket to operate the drive. The drive has robust top-loader design and round corners. The eTAU108 will be available in a piano black and a pearl white version. And with less than 350 grams, this lightweight device fits easily in any small (notebook) bag.
Writing speeds of the eTAU108 are 8X for DVD±R and DVD+RW, 6X for DVD±R DL and DVD-RW, 5X for DVD-RAM and 24X for CD-R(W). Reading speeds are 8X for DVD-ROM and 24X for CD-ROM.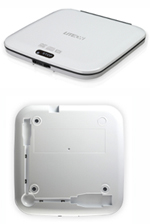 With the eTAU108 consumers don't have to worry to lose their USB-cable, while carrying the drivearound. At the bottom of the drive there's a special section to conveniently store the cable.
The eTAU108 complements a series of Lite-On external slim Optical Disc Drives already available:
eTDU108 – DVD-ROM
eSAU108 – DVD writer
eSAU208 – DVD writer with LightScribe
All above drives are USB-powered to ensure maximum convenience for the user.
More news about Lite-On products