Download here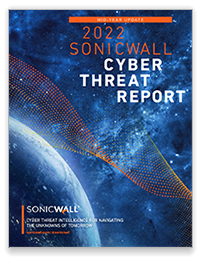 The newest report, researched and compiled by SonicWall Capture Labs, unveils an 11% increase in global malware, a 77% spike in IoT malware, a 132% rise in encrypted threats and a geographically-driven shift in ransomware volume as geopolitical strife impacts cybercriminal activity.
"In the cyber arms race, cybersecurity and geopolitics have always been inseparably linked, and in the last six months we have seen that play out across the cyber landscape," said SonicWall President and CEO Bill Conner. "The cyber warfare battlefront has shifted, as our data indicates a 63% rise in ransomware in Europe and a concerted effort to target financial sector companies, while ransomware volume dropped in other regions. With major increases in encrypted threats, IoT malware, cryptojacking and new unknown variants, it's critical that cybersecurity leaders have all the required tools and technology to proactively detect and remediate against increasingly sophisticated and targeted threats to their business."
Major findings:
2.8 billion malware attacks (+11%) recorded in the first half of 2022 — first escalation of global malware volume in more than three years
While ransomware volume shrunk 23% worldwide, Europe saw 63% increase
Even in decline, year-to-date ransomware volume exceeded full-year totals of 2017, 2018 and 2019
Financial sector saw cyberattacks climb drastically: malware up 100%, a 243% spike in ransomware, and a 269% increase in cryptojacking attempts
45% increase in 'never-before-seen' malware variants, up 21x since SonicWall began tracking in 2018
Encrypted threats, IoT malware increased 132% and 77% year-over-year, respectively.