KINGMAX, a leading global manufacturer and supplier of DRAM and Flash products, announced the SO-DIMM DDR3 1066, over-clocking DRAM. After first launching Long-DIMM DDR3 1066 for desktop on May 2007, KINGMAX keep on introducing the best product for laptop with SO-DIMM DDR3 1066 to meet the needs of professional users. KINGMAX SO-DIMM DDR3 1066 has two capacities, 1GB /2GB for choosing.
In order to provide the best performance, KINGMAX SO-DIMM DDR3 1066 is designed with 8-bit Pre-fetch, which meets the DDR3 standard of JEDEC(Joint Electronic Device Engineering Council)and packaged by CSP (Chip Scale Package; or FBGA) technology. It is a multifold improvement over the DDR2 4-bit architecture, with clocking in the 1066MHz~1600MHz range. Besides, KINGMAX SO-DIMM DDR3 1066 adopts the most popular Elpida chip to ensure the high performance in normal usage and over-clocking.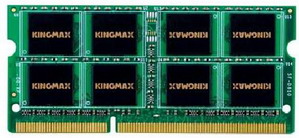 Not only speed but also stability considering, KINGMAX SO-DIMM DDR3 1066 features new functions, such as CWD, power-saving reset, ZQ calibration, SRT and PASR. All these new technologies enable the DDR3 memory to more effectively read/write data and save more energy. The working voltage is 1.5V only, compared with 1.8V of DDR2; it has approximately 17% less power consumption.
KINGMAX is the world's first memory module maker with its own advanced packaging and testing equipment, completing a vertically integrated supply chain, i.e. every step after purchase – from chip cutting, testing, packaging to finished product testing, is independently completed at KINGMAX's own packaging plant. In addition, KINGMAX has continuously striven to develop a lead-free manufacturing process. Its high-quality eco-friendly lead-free DDR3 memory modules fully meet RoHS criteria, as well as environmental requirements in the United States, Japan and China, while also ensuring product performance. With years of experience in semiconductor packaging, KINGMAX has technical manufacturing capabilities well beyond rival memory makers worldwide. In fact, the advent of the DDR3 era presents an ideal opportunity for KINGMAX to demonstrate its full potential. We have greatest confidence in our ability to provide consumers with the best memory products available.

Specification of KINGMAX SO-DIMM DDR3 1066:
– 204-pin DDR2 1066MHz SO-DIMM
- CAS Latency: 7-7-7, CL=7
- Memory bandwidth: 8.5GB/sec (dual channel 17GB/sec)
- Voltage: 1.5V (approximately 17% less power consumption compared to 1.8V of DDR2)
- Capacity: 1GB/2GB
Order Kingmax products on ASBIS' B2B Online Marketplace