Inno3D® has announced the 2nd Generation GPU technology, the Inno3D® GeForce® GTX 280 & 260. Place yourself in the center of the action and experience true DirectX 10 gaming cinema in extreme HD (2560x1600) resolutions – all enabled by Inno3D® GeForce® GTX 200 GPUs' second generation unified architecture, NVIDIA SLI® Technology, and top notch DirectX 10 support.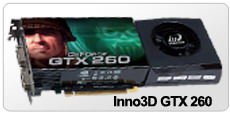 With 50% more performance than prior generation GPUs, GeForce GTX 200 GPUs tear through complex DirectX 10 environments and cinematic effects at blazing frame rates in beyond HD resolutions. Inno3D® bundles double the action with 2 amazing games: Ghost Recon Advanced Warfighter2 & Company of Heros Opposing Force.
Excellent features for Inno3D® GeForce™ GTX 280 & 260
2nd Generation NVIDIA® Unified Architecture:
The 240 enhanced processor cores that provide incredible shading horsepower is achieved via delivery of the second generation architecture with 50% more gaming performance over the first generation.
NVIDIA PhysX™ Ready:
GeForce GPU support for NVIDIA PhysX technology - enabling a totally new class of physical gaming interaction for a more dynamic and realistic experience with GeForce. The PhysX processor is noted for being specifically designed to accelerate dynamic physical motion and interaction in games such as Ghost Recon Advanced Warfighter 2 (GRAW 2).
NVIDIA CUDA™ Technology:
CUDA technology unlocks the power of the GPU's processor cores to accelerate the most demanding system tasks such as video transcoding – delivering up to 7x performance over traditional CPU's.
The Inno3D GeForce GTX280 & GTX260 allows gamers to immerse themselves in high definition worlds, experiencing graphics so real it redefines gaming reality boundlessly. Beyond games, watch Blu-ray movies and transcode video. Experience absolute immersion and a 50% pure performance boost with GeForce GTX 200 GPUs.