Inno3D® is excited to announce the launch of the Inno3D® GeForce® GTX 670, the world's fastest , most efficient GPU ever built.
The Inno3D® GeForce® GTX 670 is built from the DNA of the GTX 680 and it delivers more than just the state-of-the-art features and technology. It gives you truly game-changing performance that taps into the powerful next-generation GeForce architecture to redefine smooth, seamless, lifelike gaming.
| | |
| --- | --- |
| Specifications | GeForce GTX670 |
| CUDA cores | 1344 |
| Base Clock (MHz) | 915 |
| Boost Clock (MHz) | 980 |
| Memory Speed (Gbps) | 6.0 |
| Memory Amount | 2048MB |
| Memory Interface | 256-bit |
| Memory Bandwidth (GB/sec) | 192 |

Faster
Innovative new GeForce architecture – designed to deliver faster, more power-efficient performance
NVIDIA GPU Boost technology that dynamically maximizes clock speeds to push performance to new levels and bring out the best in every game
The power to turn on lightening-fast-anti-aliasing in a huge variety of games, automatically, with NVIDIA FXAA
The power of 3-way NVIDIA SLI ® technology

Smoother
Ultra-smooth gaming experience with exciting new NVIDIA technology advancements
NVIDIA Adaptive VSync adjusts VSync to current frame rates for maximum playability

Richer
NVIDIA 3D Vision® Surround multi-monitor gaming on a single GPU (three gaming monitors plus one accessory display) – for the first time ever
Supercharged NVIDIA PhysX® and NVIDIA 3D Vision® performance

NVIDIA FXAA
The new standard in performance and quality. Ultra fast, high quality anti-aliasing. 60% faster than 4x MSAA.

2x Performance Upgrade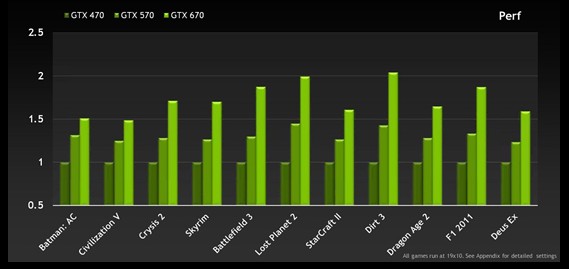 NVIDIA GPU Boost Technology
Dynamically maximizes clock speeds based on workload of the game to push performance to new levels and bring out the best in every game.
SMX
Next generation streaming multiprocessor built from the ground up for incredible performance and power efficiency.
NVIDIA FXAA Technology
Shader-based anti-aliasing technology available from the NVIDIA Control Panel that enables ultra-fast anti-aliasing in hundreds of PC games.
Microsoft® DirectX® 11 Support
DirectX 11 GPU with Shader Model 5.0 support designed for ultra high performance in the new API's key graphics feature, GPU-accelerated tessellation.
NVIDIA ® 3D Vision™ Ready
GeForce GPU support for NVIDIA 3D Vision, bringing a fully immersive stereoscopic 3D experience to the PC. A combination of high-tech wireless glasses and advanced software, 3D Vision transforms hundreds of PC games into full stereoscopic 3D. In addition, you can watch 3D movies and 3D digital photographs in eye popping, crystal-clear quality.
NVIDIA ® 3D Vision™ Surround Ready
Expand your games across three displays in full stereoscopic 3D for the ultimate "inside the game" experience with the power of NVIDIA 3D Vision and SLI technologies. NVIDIA ® Surround ™ also supports triple screen gaming with non-stereo displays.
NVIDIA TXAA Technology
Support for new temporal anti-aliasing technique that delivers the ultimate combination of image quality and performance.
NIVIDIA® 3-waySLI® technology
Industry leading NVIDIA SLI technology offers amazing performance scaling for the world's premier gaming solution.
NIVIDIA® PhysX® technology
GeForce GPU support for NVIDIA PhysX technology, enabling a totally new class of physical gaming interaction for a more dynamic and realistic experience with GeForce.
NIVIDIA® Adaptive Vsync
Dynamically enables vertical sync based on your current frame rates for the smoothest gaming experience.
NVIDIA CUDA™ Technology
Unlocks the power of the GPU's processor cores to accelerate the most demanding tasks such as video transcoding, physics simulation, ray tracing, and more, delivering incredible performance improvements over traditional CPUs.
NVIDIA® PureVideo® HD Technology
The combination of high-definition video decode acceleration and post-processing that delivers unprecedented picture clarity, smooth video, accurate color, and precise image scaling for movies and video.
PCI Express 3.0
Designed for the new PCI Express 3.0 bus architecture offering the highest data transfer speeds for the most bandwidth-hungry games and 3D applications, while maintaining backwards compatibility with existing PCI Express motherboards for the broadest support.
Dual-link DVI
Able to drive flat-panel displays up to 2560×1600 resolution over a DVI connector.
DisplayPort
Drive the latest DisplayPort panels with support for resolutions up to 2560×1600.
HDMI4
Support for HDMI including GPU accelerated Blu-ray 3D support, x.v.Color, HDMI Deep Color, and 7.1 digital surround sound.
Raise the standard of gaming with the powerful Inno3D GeForce GTX 690 and lose yourself in the ultra realistic worlds achievable with HD graphics that redefines your gaming reality. Expect the unexpected as PhysX technology delivers fine detail sure to drive your visual stimulation.