Inno3D® is excited to announce the Inno3D® GeForce® GTX 460 that's built from the ground up for DirectX 11 and delivers the ultimate next generation gaming experience.
The GPU runs at a core speed 675MHz and the stream processors at 1350MHz. The GeForce GTX 460 1MB and 768MB version has 3600MHz memory on a 256-bit and 192-bit bus respectively. With up to 4x the DirectX11 tessellation performance of the competition, the GTX 460 packs highly detailed visuals into your games without sacrificing high frame rates. And with NVIDIA 3D Vision™, PhysX®, and CUDA™ technologies, GeForce GTX 460 powers all the incredibly realistic effects that your games can throw its way.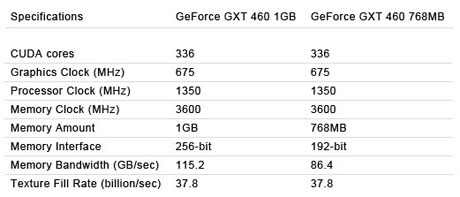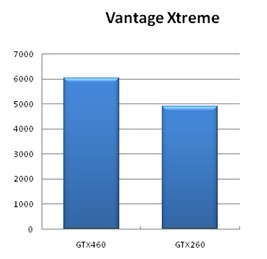 The left three bars in the chart show tessellated geometry performance for three directed tests that focus exclusively on tessellation performance. As geometric complexity is increased, GF100's performance increases. The Hair and Water demos include both shading and compute operations in addition to geometry processing. The rightmost bar shows the performance of a tessellation state bucket (a set of draw calls from a frame) from a DirectX 11 application.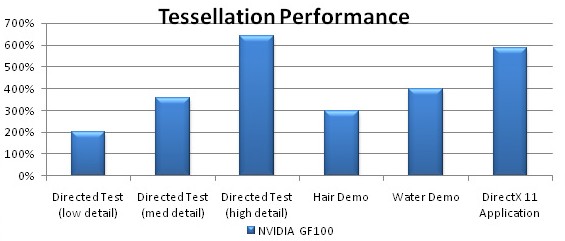 Microsoft DirectsX 11 support
NVIDIA CUBA TM technology with CUDA C/C++, DirectCompute 5.0 and OpenCL support
NVIDIA PhysX TM technology
NVIDIA SLI®-Ready
NVIDIA 3D Vision TM Ready
NVIDIA PureVodeo® HD technology
PCI Express 2.0 support
Two dual-link DVI-I connectors
One mini-HDMI 1.3a connector
Dual-link HDCP-Capable
OpenGL 4.0 support
Microsoft® DirectX® 11 Support
DirectX 11 GPU with Shader Model 5.0 support designed for ultra high performance in the new API's key graphics feature, GPU-accelerated tessellation.
NIVIDIA® PhysX® technology
GeForce GPU support for NVIDIA PhysX technology, enabling a totally new class of physical gaming interaction for a more dynamic and realistic experience with GeForce.
NIVIDIA® CUDA™ technology
CUDA technology unlocks the power of the GPU's processor cores to accelerate the most demanding systems tasks – such as video transcoding – delivering incredible performance improvements over traditional CPU's.
NIVIDIA® 3D Vision™ Surround Ready
Expand your games across three displays in full stereoscopic 3D for the ultimate "inside the game" experience with the power of NVIDIA 3D Vision and SLI technologies. NVIDIA® surround™ also supports triple screen gaming with non-stereo displays.
NIVIDIA® 3D Vision™ Ready
GeForce GPU support for NVIDIA 3D Vision, bringing a fully immersive stereoscopic 3D experience to the PC. A combination of high-tech wireless glasses and advanced software, 3D Vision transforms hundreds of PC games into full stereoscopic 3D. In addition you can watch 3D movies and 3D digital photographs in eye popping, crystal-clear quality.
Microsoft Windows 7 Support
Windows 7 is the next generation operating systems that will mark a dramatic improvement in the way the OS takes advantage of the graphics processing unit (GPU) to provide a more compelling user experience. By taking advantage of the GPU for both graphics and computing, Windows 7 will not only make today's PC's more visual and more interactive but also ensure they have the speed and responsiveness customers want.
Get ready to take on the most intense DirectX 11 games in all their glory with Inno3D® GeForce® GTX 465! With revolutionary DirectX 11 technology and NVIDIA CUDA architecture resulting in 4x the tessellation performance, the GeForce GTX 460 packs incredible detail and blazing fast frames into your games without blowing your budget.
Related news about Inno3D products