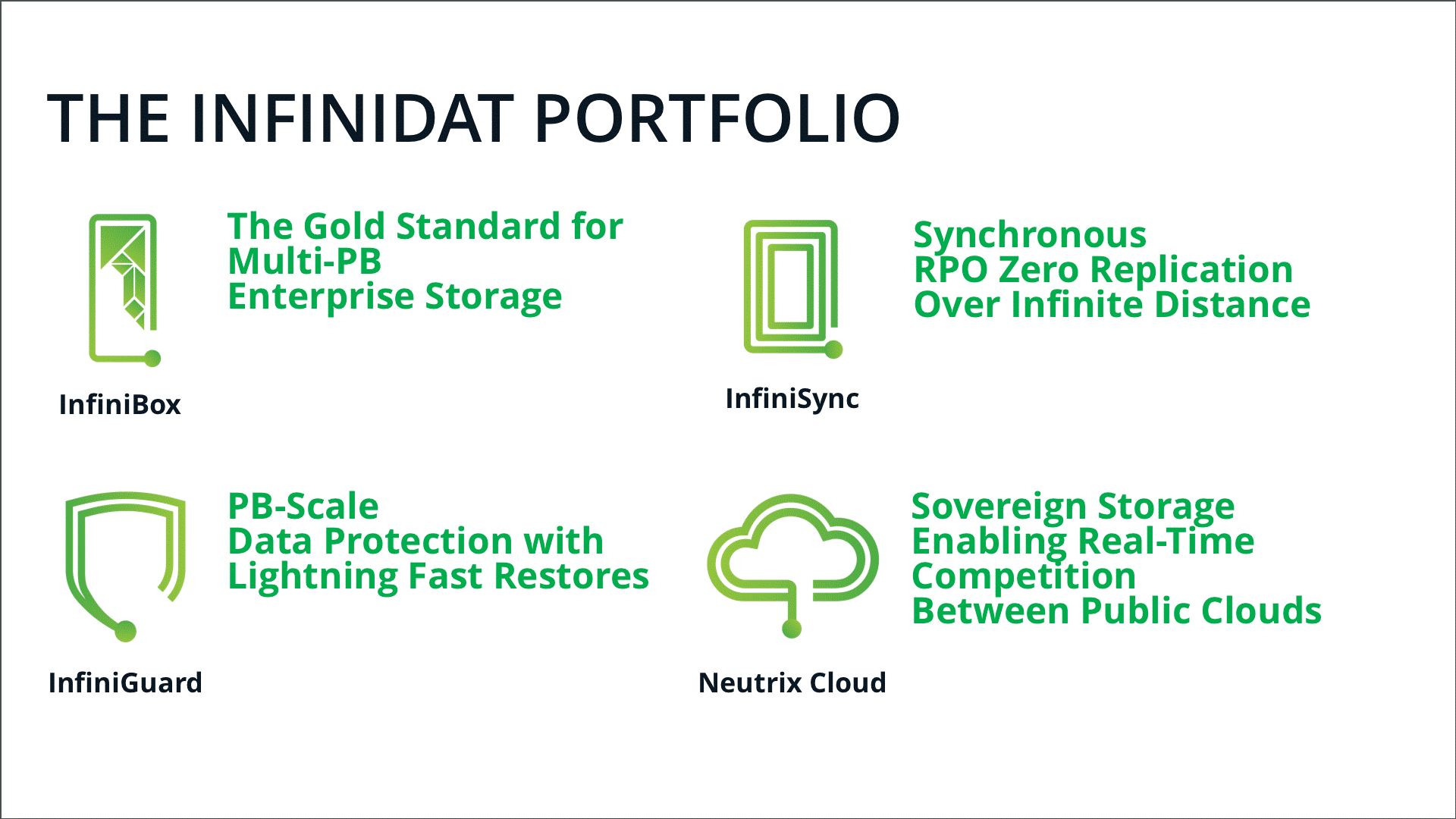 The four new products from INFINIDAT are:
F6212 Infinibox array
InfiniSync
InfiniGuard
Neutrix Cloud
All of these products based on INFINIDAT's common foundational software platform that includes:
Neural Cache, INFINIDAT's machine learning algorithm that maximizes performance by finding hidden connections in data access patterns.
InfiniRAID, which along with the INFINIDAT RAS architecture, provides seven nines (99.99999%) of availability while ensuring data integrity at multi-petabyte scale.
InfiniSnap, INFINIDAT's innovative timestamp-based snapshot mechanism that provides infinite copy data management and high-performance replication with no performance impact.
F6212 Infinibox array
The current Infinibox product set consists of the F1000, F2000, F4000, F6000 and Infinidat backup appliance.
The F6212 is the new high-end system - it employs up to 480 x 12TB NL-SAS drives, meaning 5.7PB of raw capacity.
Now the current storage portfolio of Infinidat includes the following systems:
| | | | | | |
| --- | --- | --- | --- | --- | --- |
| | F1000 | F2000 | F4000 | F6000 | F6212 |
| Max Usable Capacity | 115TB | 499TB | 1.37PB | 2.77PB | 4.15PB |
| Max Effective Capacity | 230TB | 998TB | 2.73PB | 5.53PB | 8.3PB |
| Max Memory | 384GB | 768GB | 2.3TB | 3.1TB | 3.1TB |
| Max Flash Cache | 103TB | 103TB | 207TB | 207TB | 207TB |
| IOPS | 300,000 | 500,000 | 750,000 | 1,000,000 | 1,000,000 |
| Throughput GB/sec | 3 | 7 | 10 | 12.5 | 12.5 |
The F6212 is targeted at the real-time analytics, deep learning and IoT areas.
InfiniSync
The data centre Black Box recorder is the fruits of buying Axxana company by Infinidat in end of 2017.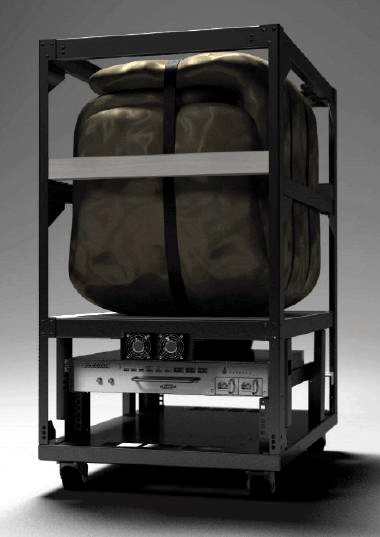 The idea is to obviate the need for a synchronous link to a remote DR site for high-value data where a low recovery point objective is needed. Typically, such DR arrangements involve a sync link from a primary array in, for instance New York, to a nearby bunker site in New Jersey, with multiple millisecond latency. There is also an asynchronous link to a remote secondary site, for instance in Dallas, with an overall recovery point objective (RPO) measured in minutes.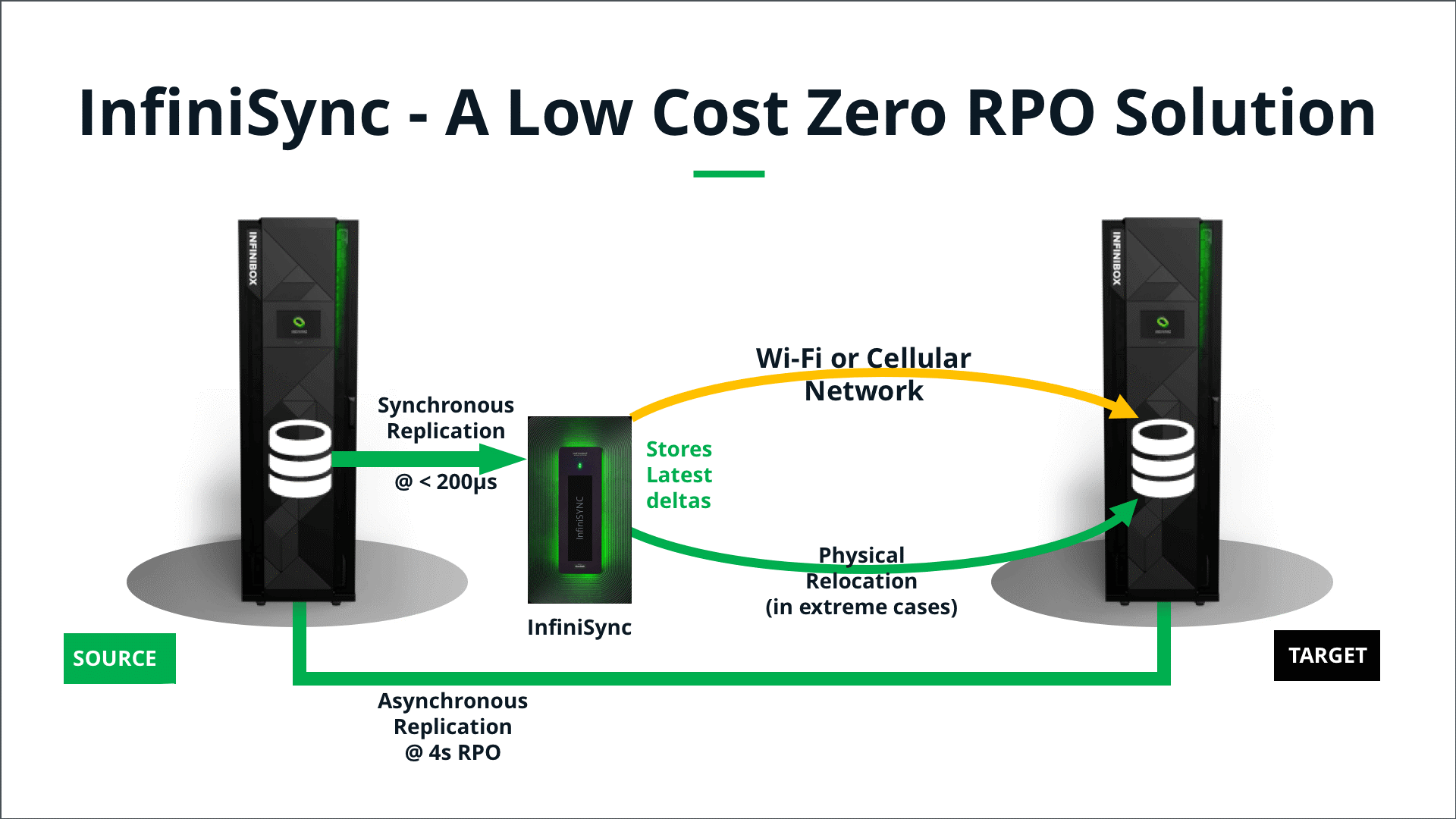 The Axxana Phoenix "black box" is a heavily insulated local system that Infinidat can survive an explosion. It stores up to 1.6TB of recent primary array data changes as they occur, with a latency of less than 0.3ms on its SSDs. Changes are also sent asynchronously to the secondary site. If the primary site goes down then recent sync data on the Infinisync box can be sent to the secondary site, by WAN or cellular transfer, and you reduce the RPO time to seconds.
The claimed outcome is fast post-disaster application recovery – RPO 0, with no data loss whatsoever and cost-savings. There is no need for the bunker site and sync comms links to it.
Axxana is now a fully owned Infinidat subsidiary and Infinidat was its first array integration.
InfiniGuard
In the Q4 2017 Infinidat introduced its Infinidat Backup Appliance (IBA), the B4260, based on an InfiniBox F4000 array. This takes up 26U in a rack whereas the IBA needs a full rack.
3 x 2U storage node servers were added to the F400 along with 3 x 2U stateless deduplication engines (DDE) which carry out variable block size, inline and global deduplication.
The system was pre-configured in a 2 + 1 HA-ready topology. If a DDE fails then its work is transferred to another one. Infinidat does not have single points of failure in its products.
The IBA has now been rebranded as InfiniGuard. It features a 48TB/hour ingest rate with no source-side deduplication, and up to 74TB/hour with source-side acceleration. Data can be replicated to a local or remote site for added protection.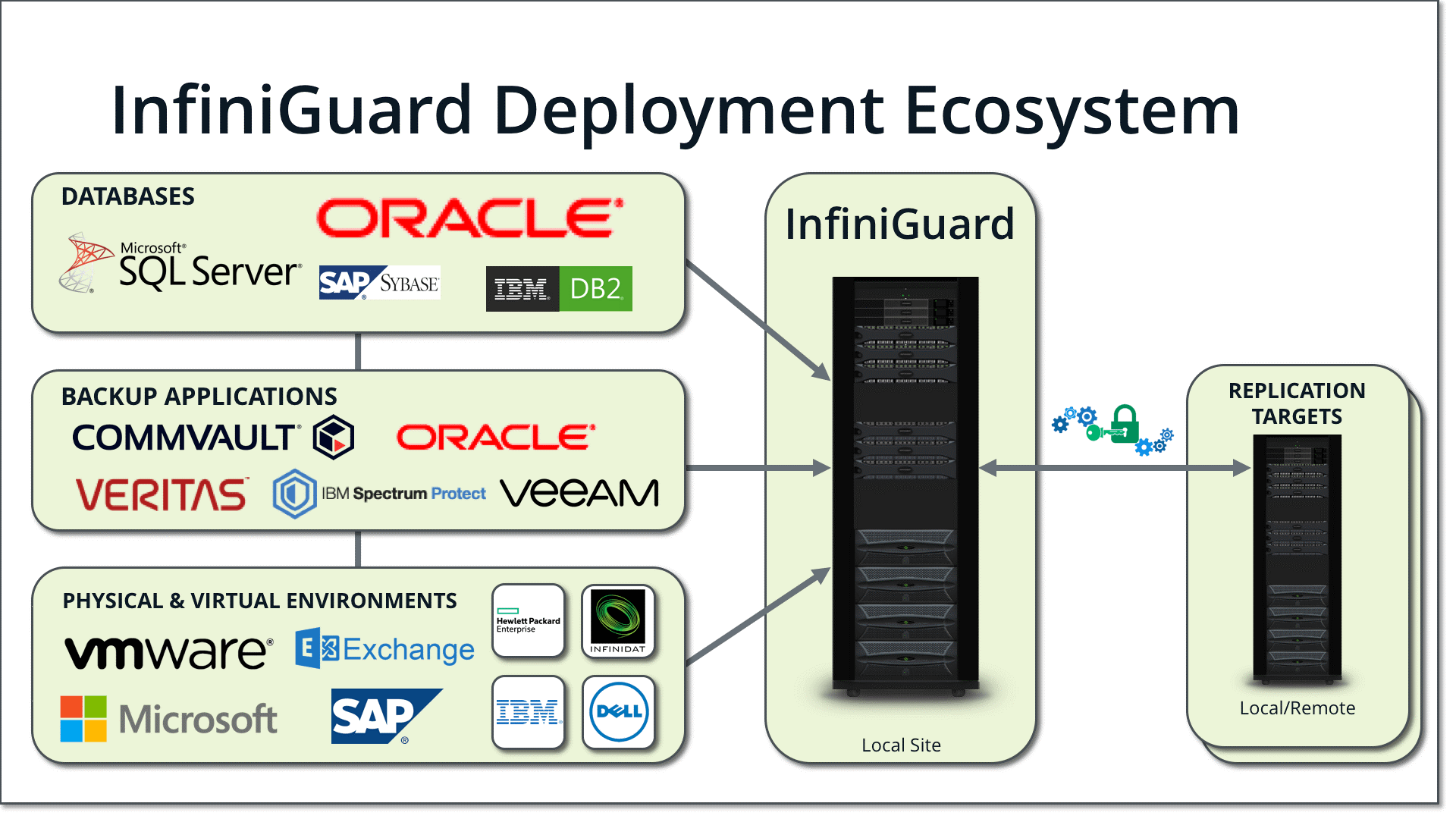 The restoration rate is 24TB/hour. The speedup is attributed partly to the InfiniBox array's caching of reads in DRAM.
The InfiniGuard system supports 10GbitE and 16Gbit/s Fibre Channel links, with 12 ports which can be mixed. Ingest protocols include RMAN, for databases like Oracle, VTL, NAS (NFS and SMB), and OST.
The list of supported backup software products includes Veritas NetBackup, Oracle, Veeam, IBM Spectrum Protect (TSM), and Commvault.
Neutrix Cloud
With the Neutrix Cloud, INFINIDAT aims to truly deliver on the promise of the agility of the public cloud without driving up infrastructure complexity and cost.
Data is stored in Infinidat arrays at Infinidat data centres; the Neutrix cloud, adjacent to fast-access entry points to the Amazon (AWS Direct Connect), Azure (Azure ExpressRoute) and Google public clouds. That means AWS, Azure and Google cloud compute can process Neutrix cloud data, without the data actually being stored in said AWS, Azure or Google clouds.
The Neutrix cloud can also be used as a disaster recovery facility by Infinidat's customers as it offers DRaaS.
Bottom line
All these products are available at ASBIS.
Are you interested in Infinidat products? Contact our team: storage@asbis.com
Please contact the ASBIS manager in your country for more information.