Download now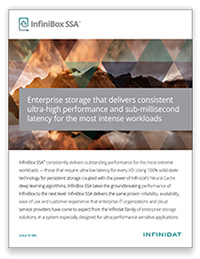 The Infinidat architecture uses DRAM as a cache to hold data stored in a bulk capacity tier (nearline disk up until now) fetched by its Neural Cache technology. Some 90 per cent of reads, or even more, are served from the DRAM cache, providing better than AFA performance on existing Infinibox models.
With the Infinibox SSA, the DRAM cache is loaded with data even faster and hence the array is faster still. The disk-based F4300 delivers up to 1.4 million IOPS with 20GB/sec bandwidth while the new F4304S outputs 1.5 million IOPS at sub-millisecond latency with 26.8GB/sec (25GiB/sec on the data sheet) bandwidth.
It supports up to 546TB of usable capacity (1,092TB after data reduction), 2,304GB of DRAM and has 24 x 32Gbits/sec Fibre Channel ports that are NVMe-ready.
Matt Bieri, Chief Information Officer at Infinidat customer Tyler Technologies, said: "Our most demanding applications, representing about 5 per cent of our workload, require sustained sub-millisecond latency. We're excited to bring in the InfiniBox SSA, which leverages the same InfiniBox architecture, Neural Cache and feature-set, for these ultra-high performance workloads."
Availability
Two new models Infinibox F4804S and F4808S available now.