With the announcement of its second-generation one terabyte hard drive, the Deskstar 7K1000.B, Hitachi Global Storage Technologies (Hitachi) is forecasting the dawn of a new age in technology that it has dubbed the "Tera Era."
As the amount of digital information created, captured and duplicated around the world continues to grow at an uninterrupted, unrelenting pace, Hitachi's vision is that three elements – rich media content, culture, and increasing capacity – are uniting to create an entirely new landscape for enterprise and consumer data storage. It is against this exciting backdrop that Hitachi is announcing the Deskstar 7K1000.B, the world's most energy-efficient 7,200 RPM one terabyte (1TB) hard drive.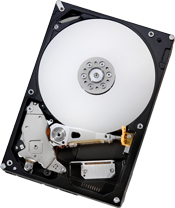 The Deskstar 7K1000.B provides an exceptional blend of power efficiency and performance, making it an ideal solution for power-friendly consumer and commercial PCs. The new three-disk design improves idle power consumption up to 43 percent over its 1TB predecessor, which was already among the industry's most energy efficient hard drives. Increased protection against data loss and piracy is provided via Bulk Data Encryption (BDE) which is available as an optional feature to users. Hitachi is also shipping the Deskstar E7K1000, designed to provide high-capacity storage for low-duty-cycle, 24x7 applications.
The new 7,200 RPM, 3.5-inch drives are available in a range of capacities from 160GB to 1TB. The drives are built using Hitachi's proven and patented perpendicular magnetic recording (PMR) heads and disks, delivering a maximum of 375GB of storage per disk with a high level of reliability.
The Deskstar 7K1000.B features optional Bulk Data Encryption (BDE) for hard drive-level data security. Previously, data on a hard drive could be protected either through software-based encryption or a system-level password. However, hard drive-level encryption provides improved performance and a higher level of security than any of the previously available options.
Hitachi also announced today the Deskstar E7K1000, a drive designed for business critical storage systems where a combination of power, reliability and performance is of critical importance. The drives ship with a 32MB buffer, five-year warranty, 1.2 million hour Mean Time Between Failure (MTBF) and Rotational Vibration Safeguard (RVS) technology for robust performance in multi-drive environments. The Deskstar E7K1000 has the same low power characteristics and optional encryption technology as its desktop-class counterpart, but was specifically designed for use in nearline storage for deep data archival and other high density storage environments.
The new Deskstar drives feature a SATA 3Gb/s interface, which supports important features such as hot-swap capability for very high availability, Native Command Queuing (NCQ) for enhanced performance and staggered spin-up for power savings.
The Deskstar 7K1000.B and Deskstar E7K1000 will ship to customers worldwide in July.