First Hitachi Ultrastar Drive to Feature 6Gb/s SAS Interface for Improved Performance and Configuration Flexibility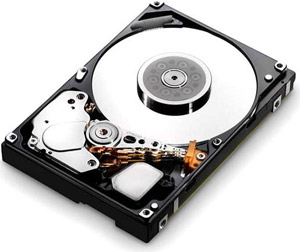 Hitachi Global Storage Technologies (Hitachi GST) today introduced its second-generation small form factor enterprise hard drive, the 10K RPM Ultrastar™ C10K300. The new Hitachi drive is optimized for the power and performance requirements of rack-mounted servers and networked storage arrays. Built using proven Hitachi power management technology, the Ultrastar C10K300 delivers the low power specifications that are of primary importance in today's data centers. The new drives are offered in 147GB and 300GB capacities and ship with a dual-port 6Gb/s Serial Attached SCSI (SAS) interface, which delivers 100 percent faster data throughput than its 3Gb/s predecessor. The new industry-standard SAS interface also improves signal strength over greater physical distances, allowing IT managers to deploy larger, more complex storage infrastructures.
The Ultrastar C10K300 is designed to provide higher server/storage density through compact 2.5-inch design, a low-power profile and improved thermal characteristics. The small form factor drive occupies 70 percent less physical space and consumes up to 65 percent less power than similar 3.5-inch enterprise drives.
Advanced Power Management
The Ultrastar C10K300 is the company's first enterprise-class drive to incorporate Advanced Power Management capabilities, which has previously allowed Hitachi to achieve best-in-class power efficiency on its popular Deskstar family of products. The technology provides IT managers with multiple power mode options so that performance requirements can be achieved using the lowest possible energy expenditure. The Advanced Power Management implementation in the Ultrastar C10K300 delivers a best-in-class idle power specification of 3.4 watts and 6.1 watts in active operating mode.
The Ultrastar C10K300 uses halogen-reduced components to support the "green" computing initiatives that are of increasing importance in today's data centers. The drive has earned the Hitachi EcoTrac classification, used to describe products that minimize environmental impact in the areas of product design, manufacturing, operation and disposal.
"Space constraints and low power considerations in data centers have driven the transition to blade servers that rely on small form factor enterprise hard drives. The Ultrastar C10K300 is positioned to capitalize on and accelerate this trend with significant improvements in performance, power efficiency and configuration flexibility," said Brendan Collins, vice president, Product Marketing, Hitachi Global Storage Technologies. "The new drive delivers the quality and reliability that our enterprise customers have come to expect from Hitachi."
SAS 6Gb/s Performance
Fast response time is critical for a wide range of enterprise applications, including online transaction processing, real-time business analytics and timely delivery of data-intensive content-on-demand such as multiple channels of streaming video. The increased transfer rate of the new SAS interface operating at 6Gb/s is ideal for meeting these challenges. The new serial interface is fully backward compatible with existing 3Gb/s devices to provide enterprise customers with exceptional configuration flexibility and investment protection.
The drives feature average seek times as low as 3.9 milliseconds and the fast rotational speeds reduce average latency time to 3 milliseconds, enabling customers to access data more quickly and efficiently.
Built for Reliability
The Ultrastar C10K300 is built on a mature design platform to ensure greater reliability and reduced qualification times. The drive includes a host of industrial-strength technologies designed to maximize reliability in mission-critical environments. Fluid Dynamic Bearing (FDB) motors deliver a low acoustic rating and improved data integrity, while Rotational Vibration Safeguard (RVS) technology anticipates and counteracts disturbances that can occur in multi-drive configurations. In addition, the Ultrastar C10K300 uses Hitachi-patented head load/unload ramp to minimize integration induced drive damage.
The Ultrastar C10K300 is now shipping to customers worldwide.
Buy Hitachi Enterprize Hard Drives at ASBIS B2B e-Shop | Buy Hitachi Products at ASBIS B2B e-Shop
About Hitachi Global Storage Technologies
Hitachi Global Storage Technologies (Hitachi GST) develops advanced hard disk drives, enterprise-class solid state drives, and innovative external storage solutions and services used to store, preserve and manage the world's most valued data. Founded by the pioneers of hard drives, Hitachi GST provides high-value storage for a broad range of market segments, including Enterprise, Desktop, Mobile Computing, Consumer Electronics, and Personal Storage. Hitachi GST was established in 2003 and is headquartered in San Jose, California. For more information, please visit the company's website at http://www.hitachigst.com .

About Hitachi, Ltd.
Hitachi, Ltd., (NYSE: HIT / TSE: 6501), headquartered in Tokyo, Japan, is a leading global electronics company with approximately 390,000 employees worldwide. Fiscal 2007 (ended March 31, 2008) consolidated revenues totaled 11,226 billion yen ($112.3 billion). The company offers a wide range of systems, products and services in market sectors, including information systems, electronic devices, power and industrial systems, consumer products, logistics, materials and financial services. For more information on Hitachi, please visit the company's website at http://www.hitachi.com. Ultrastar is a trademark of Hitachi GST. Hitachi trademarks are authorized for use in countries and jurisdictions in which Hitachi has the right to market the brands. Hitachi is not liable for third parties' unauthorized use of Hitachi trademarks.
Related New about Hitachi Products