GIGABYTE Technology, (TWSE: 2376), an industry leader in high-performance servers and workstations, announced at OCP Summit support for the Ampere® Altra® Max processor and unveiled the new GIGABYTE high-density server, H262-P60, that embodies performance and scalability for HPC clusters and HCI. The Ampere® Altra® processor has also shown great power efficiency in cloud and edge applications while gaining momentum as it uses Arm architecture to give x86 a run for its money.
Ampere® Altra® Max Processor
The competitiveness of Ampere Altra processors and ARMv8 64-bit architecture has become even more apparent as the Ampere Altra Max processor maintains the same 250W TDP as Ampere Altra and is pin-to-pin compatible, yet it is able to add 60% more cores for up to 128 cores. For networking, storage, or accelerators the single socket supports 128 PCIe lanes, while the dual socket configuration for Altra Max will support 192 PCIe lanes. The H262-P60 will ship with updated support for Altra Max.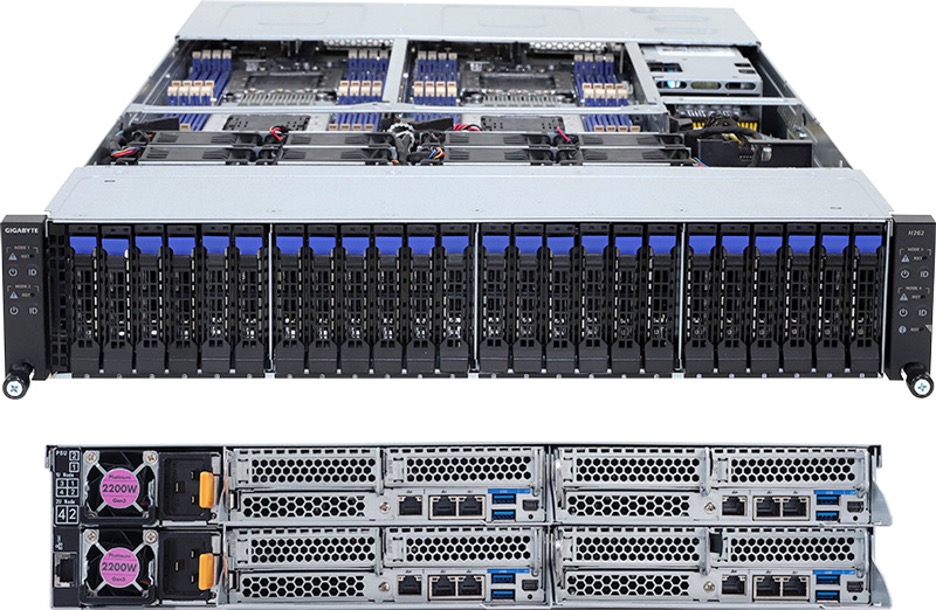 H262-P60: High-density Arm Server
GIGABYTE has been supporting and developing servers for Ampere Altra processors starting with the first wave of servers released earlier this year at Computex. And this second wave of servers will offer more dual-socket options, and that starts with the H262-P60 that has four nodes and supports a total of 8 processors in a 2U chassis. The new H-series server also has 8 DIMMs per socket for the 8-channel memory mode and supports the latest DDR4-3200. For each node there are 6 x SATA drives, 1 x M.2 slot, 2 x half-length half-height slots, 1 x OCP 3.0 slot, dual 1GbE LAN ports and a dedicated management port. There is a CMC module to aggregate the information from each BMC on each of the nodes for chassis-level management and multi-node monitoring. As each node has a BMC, ASPEED AST2600, this allows remote management and control for a server or a cluster of servers.
Remote and Multiple Server Management
As part of GIGABYTE's value proposition, GIGABYTE provides GIGABYTE Management Console (GMC) for BMC server management via a web browser-based platform. Additionally, GIGABYTE Server Management (GSM) software is available for download on product pages. This software can monitor and manage multiple servers without requiring an additional license fee. GMC and GSM offer great value while reducing TCO and customer maintenance costs.
The ability to monitor and report takes place on each node as the onboard BMC, ASPEED AST2600, can remotely update firmware and log events while also handling management for user account and security. The CMC takes management a step further and is able access each BMC to form a single unified management console that paints a complete picture of the server health and state.