The GIGABYTE R-series servers already have unique storage options, and the new servers (R182-P91, R282-P91, and R282-P92) extend the depth of support for NVMe (Gen4) SSDs on the Arm platform. For scalable, high-density compute, the last new server, H262-P61, also has no thermal limitations, as it can sustain peak, consistent performance by providing optimal airflow. This multi-node H-series server supports eight CPUs, which translates to as many as 1,024 Arm-based CPU cores in a traditional 2U server. Working off the strengths of the latest Arm architecture for System on Chip (SoC) solutions, Ampere Altra and Altra Max processors are now supported in both single and dual-socket configurations by GIGABYTE.
Ampere Altra Max advantages:
High performance: Up to 256 cores with 256 threads (per board)
High throughput: 192 PCIe 4.0 lanes
Optimized CCIX for inter-socket communication
High performance-per-watt: 128 cores with 250W TDP
Applications: data analytics, AI, edge computing, web hosting, and more

New R-series Servers
The new rack servers (R182-P91, R282-P91, R282-P92) were created to provide our users with dual-socket, high-density compute platforms along with flexible storage options that stresses NVMe SSDs with consistent performance.
The dual-socket design by Ampere affords 192 PCIe Gen4 lanes for storage, GPUs, and networking. For R182 and R282 servers that use an Arm CPU, all NVMe SSDs transfer data via Mini Cool Edge IO (MCIO) connectors. Although, in the case of the R282-P91, OCP 3.0 slots are also utilized to support NVMe SSDs. MCIO is preferred because a single cable can support twice as many PCIe lanes as SlimSAS. This helps to reduce cables, simplifies design, improves the airflow without impacting performance, and allows the expansion slots to have greater flexibility for low-profile GPUs to fast networking.
What also distinguishes these new servers is the importance of flexible storage. Starting with the R282 series, the -P91 is dedicated to supporting 2.5" NVMe SSDs on the front side. In addition, there are also four rear SATA HDD/SSDs. Conversely, the -P92 offers six bays to support larger capacity 3.5" HDDs and faster 2.5" SATA SSDs up front, with the remaining six front bays dedicated to NVMe SSDs. Moving to the 1U R182 series, the -P91 is slimmed down to support 2.5" SSDs with half the bays for hybrid NVMe/SATA SSDs and the others for dedicated NVMe SSDs. This product segmentation will better target our customers' requirements thanks to the modular design in GIGABYTE servers.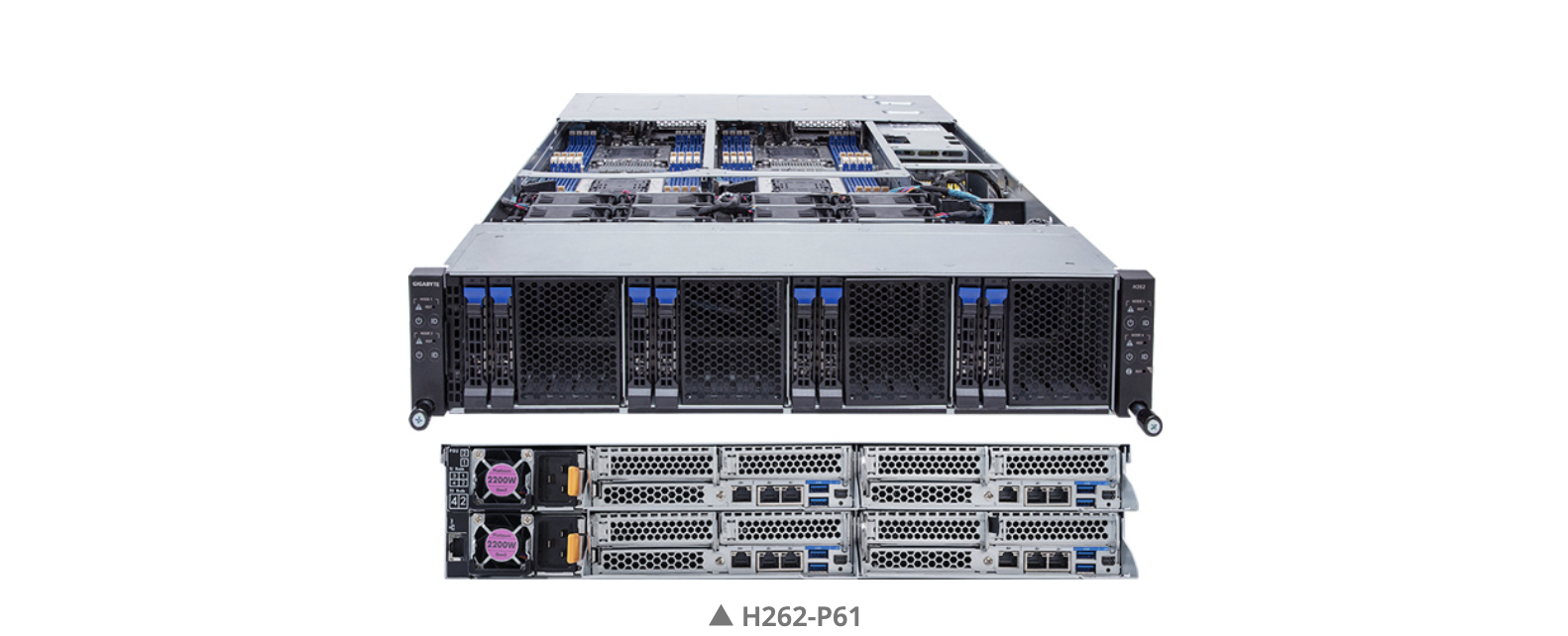 New H-series Server
With every design there are tradeoffs necessary to achieve performance goals, and this is especially true for the market for multi-node, high-density servers as power consumption per CPU continues to increase along with performance. As a result, the new H262-P61 removes some front drive bays to improve airflow. This design is necessary for a 2U server to provide stable, high-performance compute for the complete lineup of Ampere processors, including the Ampere Altra Max M128-30 with 128 cores and a 250W TDP. The predecessor to this server, H262-P60, is already in the market and caters to those who prioritize storage and are willing to reduce clock speed, number of cores, and max TDP.
In terms of operating system support, all these new GIGABYTE products support an OS from Red Hat, SUSE, Ubuntu, Fedora, Oracle, and Debian.
The product development spirit has always been a key factor in the growth and decisions at GIGABYTE. As a hardware focused company, it has been supporting in-house Arm solutions for nearly a decade. The Arm ecosystem is very familiar to and well-designed by our engineers to optimize new product offerings with a highly competitive proposition that expands GIGABYTE's product portfolio and reaches every corner of the enterprise market. The new servers add to this spirit of invention offering our customers cloud-native solutions that are in demand.
| | | | |
| --- | --- | --- | --- |
| | To get more information | | |