New HandyDrive from Fujitsu with up to 300GB in one drive: A safe solution for demanding storage environments

Fujitsu Europe Limited announced its new travel-ready HandyDrive for EMEA, featuring the world's highest capacity 2.5-inch external hard disk drive (HDD) with up to 300GB of storage space in one drive. Suitable for the busy mobile professional looking for a portable, compact-size HDD with industry-leading capacities, Fujitsu´s HandyDrive is equipped with the necessary components to enable users to take their data wherever they go. Its new utility management reduces the drive's power consumption in stand-by mode by 50% over normal idle mode. And for extra safety, Fujitsu provides a new password lock tool option to secure stored data and prevent unauthorized access.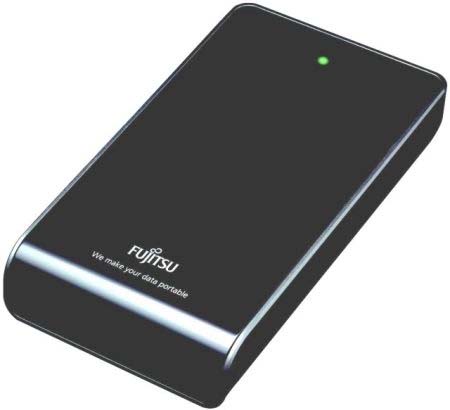 Industry-leading profile
Available in capacities of 120GB, 160GB, 200GB, 250GB, and 300GB, the new Fujitsu HandyDrive is an ideal solution for storing work files, multimedia applications, photos, videos, MP3s, temporary data backup, data exchange, data transport, and security solutions. The easy-to-carry HandyDrive has a maximum data transfer rate of 60MB per second, comes with an 8MB read/write buffer, weighs less than 255 grams, with a robust housing of just (D) 142 x (W) 82 x (H) 22 mm in size. Its distinctive internal shock-endurance mechanism helps to reduce the effect of impact and lends increased data protection.
Bus-powered USB 2.0 interface
The HandyDrive´s integrated, bus-powered USB 2.0 interface freely permits the drive´s connection and disconnection during computer operations. A notebook PC can lend the device the necessary power without external resources required. Primarily for mobile use, Fujitsu´s new external HandyDrive can be utilized as an ideal storage extension for desktop PCs. "With our special know-how gained through more than 40 years of experience in the hard disk drive industry, Fujitsu is committed to provide the ideal solutions for the expanding mobile marketplace and users looking for portable HDD devices with higher capacities, compact designs, and advanced data security features," said Georg Dietsch, Director of Fujitsu Storage Products Group in EMEA.
Price and availability
The new Fujitsu HandyDrive 120GB and 160GB models will be available in EMEA mid-October 2007 for a recommended net retail sales price of € 89 and € 119 respectively. The 300GB device will become available at the end of October 2007, with an anticipated suggested net retail price of € 199. The 200GB and 250GB models will become available at the end of November 2007, with an anticipated suggested net retail price of € 150 and €175 respectively. All of the mentioned prices exclude applicable local VAT taxes.
For more information about Fujitsu Europe Limited or our products and product photos, please visit the Internet under http://emea.fujitsu.com/felg.