Buy online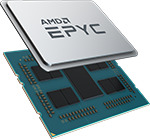 AMD announced it is extending the 2nd Gen AMD EPYC™ processor family with three new processors that combine the balanced and efficient AMD Infinity architecture with higher speed "Zen 2" cores for optimal performance on database, commercial high-performance computing (HPC) and hyperconverged infrastructure workloads.
The three new processors, the AMD EPYC™ 7F32 (8 cores), EPYC™ 7F52 (16 cores) and EPYC™ 7F72 (24 cores), expand 2nd Gen AMD EPYC performance leadership into workloads that can leverage up to 500 MHz of additional base frequency, and large amounts of cache, making AMD EPYC™ the world's highest per core performance x86 server CPU.
The AMD EPYC 7Fx2 processors provide new performance capabilities for workloads in the heart of the enterprise market including database with up to 17% higher SQL Server® performance2 compared to the competition, hyperconverged infrastructure with up to 47% higher VMmark® 3.1 score (using vSAN™ as the storage tier in a 4-node cluster) compared to the competition for a new world record3, and commercial high-performance computing (HPC) with up to 94% higher per core computational fluid dynamics individual application performance4 compared to the competition.
"AMD EPYC continues to redefine the modern data center, and with the addition of three powerful new processors we are enabling our customers to unlock even better outcomes at the heart of the enterprise market," said Dan McNamara, senior vice president and general manager, server business unit, AMD. "With our trusted partners, together we are pushing the limits of per core performance and value in hyperconverged infrastructure, commercial HPC, and relational database workloads."
| | | | | | |
| --- | --- | --- | --- | --- | --- |
| Processor | Cores/Threads | TDP (Watts) | Base Freq/Max Boost Freq | Total L3 Cache | L3 Cache per Core |
| 7F32 | 8/16 | 180W | 3.7 GHz/~3.9 GHz | 128MB | 16MB |
| 7F52 | 16/32 | 240W | 3.5 GHz/~3.9 GHz | 256MB | 16MB |
| 7F72 | 24/48 | 240W | 3.2 GHz/~3.7 GHz | 192MB | 8MB |
Looking to save on EPYC powered servers? Check our Platform solutions configured for SMB infrastructure and applications. Learn more >>
Contact ASBIS managers in your country to get more information about AMD EPYC™ products.