BUY ONLINE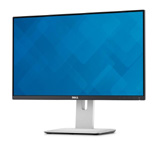 Dell has added two new Dell UltraSharp monitors to its award-winning monitor line. Users can now immerse themselves in a phenomenal viewing experience with the exciting Dell UltraSharp 32 Monitor (UP3214Q), while the Dell UltraSharp 24 Monitor (U2414H) provides virtually borderless viewing for a seamless multi-monitor set-up.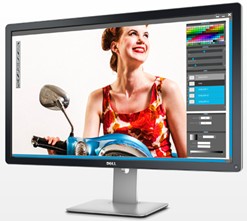 Dell's largest monitor, the Dell UltraSharp 32 Monitor (UP3214Q) features awe-inspiring screen clarity and detail with Ultra HD 3840 x 2160 resolution and high pixel density on an expansive 31.5" screen. The Dell UltraSharp 32 Monitor offers great screen real estate allowing you to multi-task and view multiple applications neatly side by side, helping enhance your productivity. Its ultra-wide 176°/176° viewing angle ensures that images and colors remain consistent regardless of your viewing perspective so you can see details down to the pinpoint.
Dell PremierColor, featured on the UP3214Q, gives color professionals what they need to do their jobs: consistent, accurate colors calibrated with a deltaE<2 for quick set-up, support of color industry standards, user-enabled color adjustments, and excellent color depth of up to 1.07 billion colors for an amazing level of detail even in dark areas. This monitor is perfect for power users like graphic designers, video and game designers, CAD/CAM designers and engineers, and photographers or anyone who requires high-performance monitors for precise, accurate, color-critical work.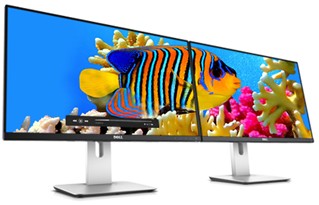 The Dell UltraSharp 24 Monitor (U2414H) has the world's thinnest monitor border at only 6.05mm. This ultra-thin bezel provides users with a virtually seamless view and enables beautiful multi-monitor set-ups. The monitor can also pivot 90 degrees clockwise or counter-clockwise to place the thinnest bezels side by side and provide a unique view and flexible usage. Featuring great color detail with the broad range of 16.77 million colors covering 96% sRGB, the U2414H offers superb screen clarity, with Full HD 1920 x 1080 resolution across an ultra-wide 178°/178° viewing angle. The Dell UltraSharp 24 Monitor has a wide range of digital ports so you can seamlessly connect it with PCs, as well as select smartphones or tablets to easily view content on a larger screen.
Like all Dell UltraSharp monitors, both the U2414H and UP3214Q monitors are reliable and eco-efficient with Dell's Premium Panel Guarantee, Advanced Exchange Service and adherence to the latest regulatory and environmental Standards.