BUY ONLINE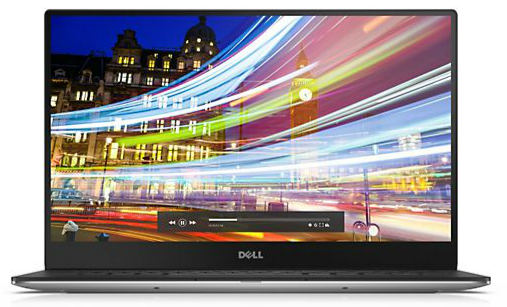 Dell new portfolio of award-winning XPS devices features the innovative XPS 12 2-in-1, ultra-mobile XPS 13 notebook and stunning XPS 15 powerhouse laptop. Continuing to build on the XPS family's premium pedigree of form and function, this updated lineup is designed to offer the best consumer laptops, incorporating high performance 6th generation Intel Core processors and sleeker hardware, all built for an enhanced Windows 10 experience.
"Beginning with CES 2015, when we first unveiled the world's smallest laptop – the XPS 13 with our exclusive InfinityEdge display – the world took notice of the innovations coming out of Dell that no other laptop manufacturer was offering," said Frank Azor, general manager of Dell XPS. "Today we are further demonstrating our commitment to innovation and design by delivering the most impressive XPS lineup ever seen."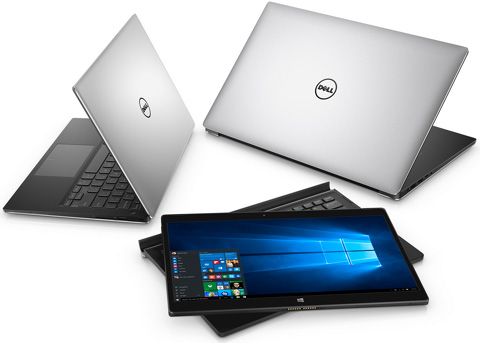 The new XPS devices boast a number of 'firsts' and 'bests' in their respective product groups – spanning form-factor breakthroughs, display prowess, battery life and more – maintaining the tradition of offering the best computing experience. The XPS 13 and 15 feature premium and ultralight materials such as carbon fiber and machined aluminum, and the entire XPS portfolio has Corning® Gorilla® Glass NBT™ options (only available on touch displays). In addition, stunning panels with sharp detail and accurate colors, and the latest graphics and processors, offer the perfect blend of performance, mobility and durability.
Incorporating select aspects of the Latitude line, the XPS laptops are most manageable, and come with best-in-class security features for commercial appeal. The new XPS portfolio is catering to power users who need the best of both work and play, with features like Thunderbolt™ 3, which enables one-cable docking and up to eight times faster downloads than USB 3.0, and the capability to connect with the next generation of Latitude docking (coming in 2016). Additionally, XPS laptops are among the most environmentally friendly portfolio Dell offers, designed with smarter materials and shipped in recyclable, compost-friendly packaging, ensuring the environment is always top of mind.
XPS 12 2-in-1 – Perfecting the laptop to tablet experience, the new and innovative XPS 12 2-in-1 is designed to easily switch between laptop and tablet with a magnetic connection that enables one-handed transition. It is the only 2-in-1 device with a 4K Ultra HD display option, with 6 million more pixels than a Full HD display. Packed with high resolution cameras – 8MP world-facing, 5MP user-facing – the XPS 12 allows users to capture their world how they see it. The 2-in-1 comes standard with a mobility base, which provides a sleek full-size backlit keyboard and precision touchpad for working on-the-go, as well as the custom-built Dell Premier Folio, which provides a stand for the tablet with variable angle positions and also keeps the device safe during travel.
XPS 13 – Building on an impressive showing at CES 2015, the award-winning XPS 13 now features 6thgeneration Intel Core processors and graphics, more storage and memory (up to 1TB PCIe SSDs and 16GB RAM, respectively) and Thunderbolt™ 3. The XPS 13's popular form factor continues to impress, still holding its title of the smallest 13-inch laptop on the planet, as well as the first with a virtually borderless InfinityEdge display. With up to 18 hours, 14 minutes of battery life with a FHD display, the XPS 13 also offers the longest battery life on a 13-inch laptop.
XPS 15 – The XPS line offers powerhouse performance in aggressive form factors, and the new XPS 15 is the pinnacle of that design philosophy. With the success of the XPS 13, Dell is now bringing the world's first virtually borderless InfinityEdge display to a 15-inch laptop, making it the smallest 15-inch laptop on the planet. At just 11-17mm thin and Starting at 1.78kg with 56Whr battery, SSD, and non-touch display, the XPS 15 is also the lightest performance-class 15-inch laptop. The XPS 15 features a stunning UltraSharp™ 4K Ultra HD (3840 x 2160) resolution option and the only 100 percent minimum Adobe RGB display on a laptop. Offering powerhouse performance on-the-go, the device is underpinned by 6thgeneration Intel Core processors (up to i7 Quad Core), NVIDIA GeForce® GTX™ 960M graphics (2GB GDDR5), high performance memory up to 16GB at 2133 MHz, up to 1TB hard drive or 1TB PCIe SSD storage, and Thunderbolt™ 3. Additionally, the XPS 15 battery life offers up to 17 hours with a FHD display, 84WHr battery and SSD. For users who need horsepower to drive graphics and processor-intensive creation, the XPS 15 is the multimedia beast they've been waiting for.
For availability and pricing details please contact your dedicated account manager.