BUY ONLINE
For availability please check directly with your country manager in ASBIS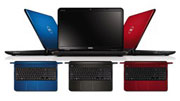 DELL Inc., a multinational information technology corporation and a well-known PC manufacturer, has introduced the new series of sophisticated Inspiron R laptops.
The new Inspiron R series joins Dell's expansive collection of laptops and desktops equipped with the latest Intel processors and are fun, stylish and lightning quick. Available today, the new Inspiron R 15- and 17-inch laptops deliver incredible mobile entertainment, high-definition displays and outstanding battery life, but that's just the beginning.
The perfect combination of brains and beauty - the latest addition to the Inspiron family also introduces an innovative new design twist: new SWITCH by Design Studio interchangeable lids that switch the look of Inspiron R laptops with just a pop and a click.
But the Inspiron R shouldn't be judged by its cover(s) alone. Packing the latest 2nd generation Intel Core technology, the Inspiron R laptops benefit from sleek form factors, up to 13 hours of battery life on the Inspiron 15R with the optional 9-cell battery and incorporate the latest USB 3.0 technology to make transferring photos, videos, music and other graphics-rich files faster than ever.
Performance? Check! What about the lids? Carefully selected from Dell Design Studio's curated collections, the contemporary art and graphic designs available from SWITCH by Design Studio offer exclusive selections.
"Our Inspiron R models equipped with 2nd gen Intel Core processors deliver the ultimate in entertainment and mobility and because customers value both performance and style, the eye-catching lids are designed to suit your mood or style at any given moment," said Sam Burd, vice president Dell's Consumer & SMB Product Group. "With the Inspiron-R series, we're living up to our heritage of delivering the performance you need to do more, and with SWITCH by Design Studio, you can look good while doing it," Burd added.
Inspiron R: The Dell Difference
With a range of entertainment, storage, productivity and show-stopping design options available on the Inspiron R, Dell makes it easy for people to go online and choose the perfect Inspiron R laptop with confidence, knowing it will be a smart investment that will deliver the ideal technology-by-design for them.
Smart, powerful graphics
Bring your movies and streaming video to life with a crystal-clear HD+ (720p) WLED display and connect with your friends and family with a crystal-clear HD webcam. Boost visual performance with optional intelligent graphics. Upgraded Inspiron R laptops use high-performance video cards for graphics-intensive applications, like playing games or watching HD movies. When you need less power, your laptop automatically switches to an integrated card — delivering more performance on a single battery charge.

What you need, where you need it
Edit photos and videos, listen to music, play games and stay in touch. Whether you're at home or on the go, the Inspiron R laptop is designed to be your personal entertainment center. With Dell Stage software, the things you care about are always within reach. Inspiron R laptops are designed to meet your everyday computing needs, with power to spare.
The speed you need
Seamlessly multitask and quickly access your files and programs with up to Intel® Core™ i7 processors and the Genuine Windows 7® operating system.
WiDi and 3DTV enabled
Wirelessly project movies to your TV with Intel® WiDi, or enjoy surreal Blu-ray™ 3D movie playback (with optional Blu-ray drive) on your 3D-capable TV using HDMI 1.4.
Store it all
Inspiron R laptops deliver large-capacity hard drives with more than enough space for your music, videos and photos.
Related news about Dell products