BUY ONLINE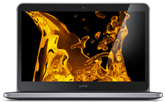 XPS 14 Ultrabook designed for consumers on the move with ultra-long battery life
XPS 15 boasts thin powerhouse performance for superior creation and entertainment
Thoughtful design and premium craftsmanship with machined aluminum and edge-to-edge display
Dell has announced the expansion of its XPS laptop portfolio with the XPS 14 and XPS 15 laptops. Joining the award-winning XPS 13 Ultrabook, the XPS 14 and 15 have the same beautiful, thoughtful design and craftsmanship in two additional screen sizes for consumers who desire connectivity, performance and entertainment, no matter where they are.
As part of Dell's flagship XPS brand, this array of laptops enables customers to choose the one that best suits their needs. The XPS 13 is highly portable and compact for today's most mobile users, while the XPS 14 provides long battery life and connectivity for those who need to get online wherever they are. The XPS 15 provides performance graphics and a brilliant display for multimedia creation and entertainment. All three laptops have enterprise-friendly features to intersect the design and performance desired by consumers with the security and services required by IT departments. Additionally, The XPS 14 and 15 laptops are distinguished by vibrant displays with hardened Corning Gorilla Glass, and use the latest Intel technology, such as the latest Intel 3rd Generation processors, and Intel Rapid Start*, Smart Response* and Smart Connect* technologies, to enable users to be productive, connected and responsive anywhere.
"Following the success of Dell XPS 13, our customers wanted to see more of the XPS brand," said Sam Burd, vice president, Dell Personal Computing Product Group. "The XPS 14 and 15 laptops offer powerful performance, thoughtful design and a superb user experience, along with enterprise-friendly features so you can use them for work and for play."
XPS 14: Outstanding Performance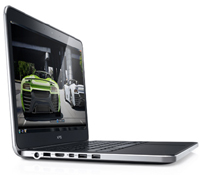 Designed for mobile users, the XPS 14 comes in two main configurations. The XPS 14 Ultrabook features a highly-durable machined aluminum chassis with innovative silicone base in a compact, thin, 20.7mm design. With optional NVIDIA® performance-class graphics and a 14" HD display customers have a viewing experience you'll have to see to believe. With up to 11 hours of battery life and a backlit keyboard, the ultra-thin XPS 14 Ultrabook is built to keep pace with your busy life.A wide variety of options are available, including Intel's RapidStart and SmartResponse (startup, hibernate and caching improvements) technology, using a traditional hard drive plus a 32GB mSata card to achieve SSD-like performance. A 512GB SSD option is offered. XPS 14 boots up to 33% faster than a regular hard drive and resumes in less than 2 seconds.
The XPS 14 option with integrated mobile broadband sports a premium, black leather back so there is no signal interference with the built-in antennas, allowing users to connect virtually anywhere, anytime. Both models have the same thoughtful design and craftsmanship associated with the XPS brand.
XPS 15: Superb Content Creation and Entertainment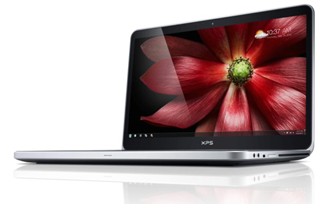 The XPS 15 offers performance, graphics and screen resolution for creativity and entertainment. With a stunning, vivid, edge-to-edge 15.6" HD display that's up to 75 percent brighter than standard panels, powerful NVIDIA graphics as standard, backlit keyboard, and optional integrated slot load Blu-ray disc drive, watching videos or creating content is pure enjoyment. Customers can also store their multimedia content with up to 1TB of storage, and still enjoy the responsiveness of a solid state drive with a 32GB or 128GB mSATA card option.
The stunning design of the XPS 15 is driven by the desire for a beautifully crafted system constructed for performance. The machined-aluminum chassis provides strength and durability with the top cover precision cut from a single block of aluminum, and the silicone base feels cool-to-the-touch. The hardened Corning Gorilla Glass screen is impeccably strong yet aesthetically pleasing with the near-frameless edge-to-edge design.
For availability please check directly with your account manager.