Amsterdam (The Netherlands), February 5, 2007 -- Canyon, one of the world's fastest growing brands on consumer electronics and IT peripherals market, has launched new trendy Walkie Talkie two-way radios for recreational users. The Canyon Walkie Talkies are an ideal way to keep in contact with friends, family and colleagues for a range of in- and outdoor activities. The new trendy consumer product is immediately available through Canyon partners' stores across Europe, Middle East and Africa in March 2007.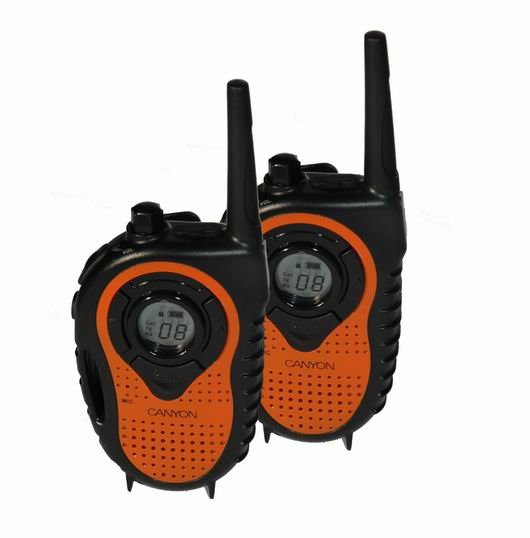 The new CN-WT1 Walkie Talkie two-way hand-held radios complement Canyon's Sportsline product series which is targeted at active and mobile users. These new trendy radios can become a very useful element at sports centres, skiing or bicycle holidays, outdoor games, family outings and many other activities.
The extremely handy Canyon Walkie Talkies are available as a double pack and sport trendy black and orange colour combination. They have specially designed ribbed side surface ensuring a reliable grip, even when wearing gloves. The radios can also be put on a desk in an upright position. The controls are very simple to understand – just turn the knob on the top to power on and adjust the volume, select the channel by pressing buttons next to the LCD screen, and push the side button in to talk.
"The attractive and robust design, 3 km range and hassle-free operation make Canyon Walkie Talkies ideal for active souls who enjoy skiing, hiking, cycling and staying in touch for free when on the move. They have eight channels and auto-squelch function for noise reduction ensuring uninterrupted private conversation. To top it off, communication is free", says Ivo van Houten, Marketing Manager at Canyon.
The LCD screen is crisp and clear with a battery indicator similar to that found on mobile phones, as well as with a channel number display and reception/transmission indicators. The up/down buttons make it easy to select the channels. To ensure there is no accidental changing of channel, users can enable the Key Lock feature. The Monitor feature allows to listen to the channel when the signal is low.
The Canyon Walkie Talkies come with a handy Belt Clip, which allows the radio to spin freely and to be released quickly. The radios run on 3 AAA alkaline batteries. Each unit weighs just 150g without batteries.
The product is covered by Canyon's 2-year limited international warranty.
The recommended retail price for CN-WT1 Walkie Talkie in the EU stands at Euro 34.99 (including 19% VAT).
The product is available at ASBIS offices throughout Central and Eastern Europe, Middle East and Africa.
Technical specifications for CN-WT1 Walkie Talkie :
Auto squelch control: no interference with unwanted signal
Roger beep: paging your partner with single call button
Monitor function
Power save
Communication range: 3 km
Key lock
Low battery indicator
Calling tone: 1
Pack Weight (2 radios) - 300g (without batteries)

High-resolution product photo can be downloaded via this link:
http://www.asbis.com/download/Canyon_CN-WT1.jpg

About Canyon
Canyon is one the world's fastest growing brands within consumer electronics. The company has over 150 products in four product lines: Regular line, Sportsline, Platinum series and Value packs. Canyon Technology was founded in 2000 in Beaverton, Oregon, USA, and has its European head office in Amsterdam. For more information, please visit: www.canyon-tech.com