VIDI Magazine, a monthly publication dedicated to the IT industry in Croatia, recently tested 17 webcams from various brands and shared the results in the November 2008 edition. Two models from CANYON's Platinum Series were put to the test: the CNP-WCAMN1 and the CNP-WCAM313. The reviews are positive, and CANYON got a BEST BUY Award from the magazine.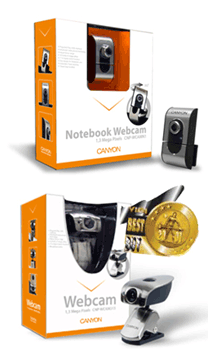 Overall, both models were highly appreciated for their specifications, unique design and compact size.
The CNP-WCAMN1 is very stylish and of top quality. It features an aluminum casing and a resolution of 1.3Mega pixels. It is a miniature webcam of only 6cm high and 2.9cm wide. It has a 360-degrees pivoting head and a face tracking software that automatically zooms on your head as you move. Moreover, the CNP-WCAMN1 also features 16 kinds of image effects, a 1*10 digital zoom function, and an activity light to let you know when the webcam is in use. It comes standard with a premium travel bag.
CANYON is proud to say that the CNP-WCAM313 actually won a VIDI BEST BUY Award! This stylish webcam has a resolution of 1.3 megapixels and is made of stainless steel. It has a beautiful, sleek design and offer high quality image. It features a snap shot button for great pictures, an advanced face tracking software, 14 kinds of image effects and a 1*10 digital zoom function. The CNP-WCAM313 has an easy Plug-and-Play USB interface and a built-in microphone for your convenience.
Both webcams are designed with a convenient clip allowing you to secure them easily to your notebook screen or another thin LCD panel. They are also compatible with most common VoIP software like Skype, MSN and Yahoo, and they come standard with our 2 years warranty. The webcams are part of CANYON's Platinum Series.
The Platinum Series
Conceived with businesses and professionals in mind, the Platinum Series combines functionality, high quality, and sleek design. These products meet specific requirements and needs with advanced features and technology. Especially suitable for notebook users, our product line-up consists of notebook stands, webcams, networking devices and notebook bags. Enjoy the lasting quality and no-nonsense of our Platinum Series!
Discover CNP-WCAMN1, CNP-WCAM313, and other CANYON's products portfolio at ASBIS B2B Marketplace!
About CANYON
CANYON is a cheerful, young and dynamic lifestyle brand that thrives to make life more comfortable by offering a wide range of practical, easy-to-use and affordable IT-related consumer electronics and computer peripherals to the many people. Our product range is developed with our commitment to offer beautiful and stylish product design at competitive prices, without compromising the quality. Founded in 2003, CANYON is one of the world's fastest growing brands in its industry in Asia and the EMEA region.