CANYON has introduced the 'HeartMaster', a great outdoor instrument with innovative heart rate monitoring for a healthier lifestyle. The CNS-SW4 features a patented finger touch sensing technology for a fast and precise heart rate monitoring. Whether you are training for a competition or exercising to feel good and stay in shape, this watch is the perfect partner for your activities.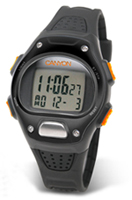 Ideal for sports such as hiking, jogging or biking, the CNS-SW4 helps you keep track of your performance with its advanced but easy-to-use features:

Current time
- Hour, minute and second
- Month, day, day of week and year
- 12/24 hour format selectable
- Month-day/Day-month format selectable
- Auto calendar from year 2000 to 2099
- Hourly chime on the hours

Dual time
- Hour, minute and second
Heart rate alert
- Measuring range: 43 to 200 beat per minute
- One heart rate zone alert (upper and lower limit)

Calorie counter
- Exercise timer
- Calorie expenditure counter
Chronograph
- Resolution: 1/100 second
- Setting limit: 99 hours, 59 minutes, 59.99 seconds
- Measuring mode: elapsed time and accumulative elapsed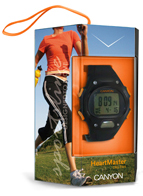 Countdown
- Resolution 1 second
- Setting limit: 99 hours, 59 minutes, 59.99 seconds
- Alarm sound: 1 beep at the 5 to 1 second, 3 beeps at 0 second for about 10 second
Alarm
Electro-luminescent backlight
Like all other products in our Sportsline, the CNS-SW4 is resistant to shock, dust and water (to minor and accidental splashes) for a durable performance. Developed for dynamic people, the Sportsline offers functional products and personal fitness solutions at an affordable price.
Buy other CANYON products at ASBIS B2B e-Shop

About CANYON
CANYON is a cheerful, young and dynamic lifestyle brand that aspires to make life more comfortable by offering a wide range of practical, easy-to-use and affordable IT-related consumer electronics and computer peripherals to people. Our product range is developed with our commitment to offer beautiful and stylish product design at competitive prices, without compromising the quality. We offer a diversified portfolio of desktop computers, chat packs, MP3 & multimedia players, speakers, headsets, mice, webcams, notebook bags, and much more. Founded in 1999, CANYON is one of the world's fastest growing brands in its industry in Asia and the EMEA region.
For more information, contact press@canyoncorporate.com or visit our website: www.canyon-tech.com