BUY ONLINE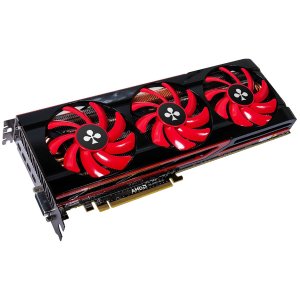 When you know you're holding a winning hand, there's just one thing to do: double down. Two bleeding-edge AMD Radeon™ GCN GPUs operating as one streamlined unit deliver the most impressive gaming experience you can fit on a desktop. Multi-screen gaming, 4K, and the very highest detail settings are simply no match. The AMD Radeon™ R9 295X2 reigns supreme.1,2 Do you have what it takes?
Radeon™ is faster. Radeon is immersive. Radeon is gaming.
Ultra Resolution Gaming
Get a game-expanding visual experience with support for up to six screens and resolutions much higher than HD.1,2
AMD TrueAudio Technology
The most revolutionary, realistic, and breathtaking sound we've ever put in a GPU.3
Mantle
Hyper-effiicent performance lets you play the game the way the developer intended.4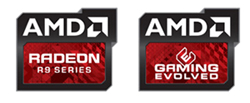 * "In a 3DMark Fire Strike benchmark test in 1080p. the AMD RadeonTM R9 295X2 outperforms the Titan Black Nvidia's highest performing graphics card as of March 12, 2014, by a score of 15862 to 9878 in the Performance preset, and 8764 to 4725 using the Extreme preset. Test system: Intel i7 4960X CPU, 16GB memory, Nvidia driver 334.89, AMD Catalyst driver 14.10 and Windows 8.1. GRDT-36"

1. AMD TrueAudio technology is offered by select AMD Radeon™ R9 and R7 200 Series GPUs and is designed to improve acoustic realism. Requires enabled game or application. Not all audio equipment supports all audio effects; additional audio equipment may be required for some audio effects. Not all products feature all technologies — check with your component or system manufacturer for specific capabilities.
2. AMD Eyefinity technology supports multiple DisplayPort monitors on an enabled graphics card. Supported display quantity, type and resolution vary by model and board design; confirm specifications with manufacturer before purchase. To enable more than two displays, or multiple displays from a single output, additional hardware such as DisplayPort™-ready monitors or DisplayPort 1.2 MST-enabled hubs may be required. A maximum of two active adapters is recommended for consumer systems. See www.amd.com/eyefinityfaq for full details.
3. Requires 4K display and content. Supported resolution varies by GPU model and board design; confirm specifications with manufacturer before purchase.
4. Application support for Mantle is required.