BUY ONLINE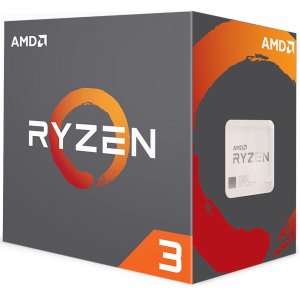 With "Zen" and "Vega" technologies great entertainment, the latest technologies, and a snappy PC are all readily available to a folks that can really benefit: everyday people who just need to get things done and have a little fun gaming on the side. And when their aspirations grow, the AM4 Platform can come along with support for multiple GPUs and Ryzen processors with up to 8 cores and 16 threads. If you're just getting into PCs or looking for something affordable and durable, the AMD Ryzen Processor with Radeon Vega Graphics is your ticket to ride.
FACT #1: They're a new type of Ryzen Processor
To date, all AMD Ryzen™ processors for desktop PCs have been pure CPUs. In other words: they must be paired with a standalone AMD Radeon™ or GeForce graphics card. But the new AMD Ryzen™ Processor with Radeon™ Vega Graphics is a bit different: graphics are built right in! You can simply plug your monitor into a compatible motherboard and go—no graphics card needed. The included Radeon Vega graphics are ideal for compact or affordable systems, where system size or budgets may not allow for a standalone graphics card.
FACT #2: There are two models to choose from
You can pick from the AMD Ryzen™ 5 2400G or Ryzen™ 3 2200G.
FACT #3: Speaking of motherboards, it's easy to find one
AMD believes in maintaining a stable CPU socket for as long as possible. It helps extend the life of your motherboard purchase, giving you opportunities to upgrade down the line. Socket AM4 for the AMD Ryzen processor is no different: We have been working with our motherboard partners to release software updates for existing motherboards that add support for the Ryzen 3 2200G and Ryzen 5 2400G. In fact, most motherboards should already be compatible.
FACT #4: They have the fastest graphics ever built into a desktop processor
AMD has been building processors with built-in graphics since 2011, but this is our fastest yet! For users thinking about building an affordable gaming system, for example, the AMD Ryzen™ 5 2400G is a good way to start. It can easily tackle popular games like DOTA™ 2, The Elder Scrolls V: Skyrim®, CS:GO™, or Rocket League™. And if you find that you'd like to upgrade to a faster standalone GPU some time later, you can do that! The built-in graphics have full support for DirectX® 12 and Vulkan®, too.
FACT #5: They open new opportunities for AMD
According to a recent report by Jon Peddie Research (JPR), about 30% of all desktop computers do not use a standalone graphics card. These PCs only ship with processors that have graphics built in, and they go to some pretty big markets: family computers, all-in-ones, small businesses, governments, enterprise workplace PCs, affordable gaming machines, small form factor machines, and more. These tantalizing opportunities are now open to AMD Ryzen thanks to the AMD Ryzen Desktop Processor with Radeon Vega Graphics!
FACT #6: Everything is unlocked for overclocking
Many of us working on the AMD Ryzen project love to overclock, and we've long felt it was only right to leave every AMD Ryzen Processor unlocked for tinkering. The new Ryzen 5 2400G and Ryzen 3 2200G processors are no different: fully unlocked CPU, GPU, memory, and voltage.3 As an added perk, these new CPUs are efficient 65W models, whereas most Socket AM4 motherboards can handle up to 95W (and then some); that's some free headroom you can use to test your overclocking chops.
FACT #7: They are the first step in a larger family
In the spring of 2018, AMD plans to release a full family of AMD Ryzen 2000 Series processors, but they say you gotta start somewhere. For now, the AMD Ryzen 5 2400G is designed to replace the Ryzen 5 1400. Correspondingly, Ryzen 3 2200G is designed to replace Ryzen 3 1200. Core counts and thread counts are the same from old to new, but the 2200G and 2400G do have higher clockspeeds, better boost, and a graphics core that can comfortably game! More performance and features for your money is a pretty sweet deal! (And if you're curious, the processors we're planning for later this spring are "pure CPUs" for enthusiasts that prefer fast standalone graphics cards.)
FACT #8: They have a cool new boost algorithm
When we design a new Ryzen processor, we build in a little bit of intelligent self-awareness called AMD SenseMI technology. With AMD SenseMI, the processor is aware of its own temperature, and aware of how how much power is being drawn from the motherboard. If the processor knows it's operating within safe tolerances, then the processor also knows it's safe to dial up the clockspeed for more performance! We call that Precision Boost. The AMD Ryzen Processor with Radeon Vega Graphics features Precision Boost 2, which lets Precision Boost work more aggressively, on more CPU cores, more often. You can learn a lot more about Precision Boost 2 in this blog post, but the key takeaway is that Precision Boost 2 is more effective than its predecessor and a major new feature in the 2200G and 2400G.

FACT #9: Radeon Vega graphics are awesome for entertainment
You've already seen that the 2200G and 2400G can comfortably play games, but games are not the only thing a graphics core can do. People also watch movies and TV shows from all different sources on many different types of monitors. The Radeon Vega graphics built into these new processors handle H.264, HEVC, and VP9 fully in the hardware for smooth, cool, and quiet playback. In other words: services like Amazon Instant Video, Hulu, Netflix, and YouTube are all handled by dedicated hardware inside our new processor.4 And when it comes to monitors, Radeon Vega graphics can handle any display up to 4K UltraHD, even if you also throw in High Dynamic Range (HDR) and Radeon FreeSync technology.5
FACT #10: You don't need to be an expert to overclock
Not everyone is familiar with the BIOS, much less overclocking from the BIOS. That's okay! If you still want to give performance tuning on the 2400G and 2200G a shake, we have just the tool for you: AMD Ryzen Master. This is a Windows-based application that gives you full control over the CPU clock speeds, GPU clock speeds, memory clock speeds (and voltages for all). AMD Ryzen Master makes it super simple to try your hand at overclocking right from the desktop, and monitor your hardware while you do it.Easy!
Read the full article here.
Endnotes:
1. Testing by AMD Performance labs as of 12/08/2017 for the Ryzen 5 2400G, and 09/04/2015 for the Core i7-5775c on the following systems. PC manufacturers may vary configurations yielding different results. Results may vary based on driver versions used. System Configs: All systems equipped with Samsung 850 PRO 512GB SSD, Windows 10 RS2 operating system. Socket AM4 System: Ryzen 52400G processor, 16B (2 x 8GB) DDR4-2667 RAM, Graphics Driver 1710181048-17.40-171018a-319170E 23.20.768.0 :: 12/08/2017. Socket LGA1150 System: Core i7-5775c processor, 8GB (2x4GB) DDR3-1867 MHz RAM, graphics driver 10.18.15.4256:: 09/04/20153DMark 11 Performance benchmark used to represent graphics power. The following processors achieved the following scores in 3DMark 11 'performance' benchmark v1.0.132.0: The Ryzen 5 2400G: 5042. Also in v1.0.132.0, .The Core i7-5775c, the Intel desktop processor with the highest Intel desktop graphics performance, achieved 3094. RZG-01
2. Vulkan and the Vulkan logo are registered trademarks of the Khronos Group Inc.
3. WARNING: AMD processors, including chipsets, CPUs, APUs and GPUs (collectively and individually "AMD processor"), are intended to be operated only within their associated specifications and factory settings. Operating your AMD processor outside of official AMD specifications or outside of factory settings, including but not limited to the conducting of overclocking (including use of this overclocking software, even if such software has been directly or indirectly provided by AMD or an entity otherwise affiliated in any way with AMD), may damage your processor, affect the operation of your processor or the security features therein and/or lead to other problems, including but not limited to damage to your system components (including your motherboard and components thereon (e.g., memory)), system instabilities (e.g., data loss and corrupted images), reduction in system performance, shortened processor, system component and/or system life, and in extreme cases, total system failure. It is recommended that you save any important data before using the tool. AMD does not provide support or service for issues or damages related to use of an AMD processor outside of official AMD specifications or outside of factory settings. You may also not receive support or service from your board or system manufacturer. Please make sure you have saved all important data before using this overclocking software. DAMAGES CAUSED BY USE OF YOUR AMD PROCESSOR OUTSIDE OF OFFICIAL AMD SPECIFICATIONS OR OUTSIDE OF FACTORY SETTINGS ARE NOT COVERED UNDER ANY AMD PRODUCT WARRANTY AND MAY NOT BE COVERED BY YOUR BOARD OR SYSTEM MANUFACTURER'S WARRANTY.
4. Names used for informational purposes only. No endorsement is implied.
5. High Dynamic Range (HDR) requires an HDR-enabled content chain, including: content, display, operating system, graphics driver, and GPU.