BUY ONLINE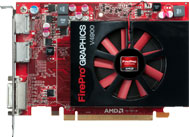 Why Use Multiple Displays?
"See More. Do More." – Being able to work with a large amount of screen real estate – especially with multiple, user interface intense applications – allows you to see more data at the same time, work more efficiently and get your job done faster.
Why AMD Eyefinity?
Compared to other solutions, AMD FirePro with Eyefinity provides higher display density with fewer boards. The result is a solution at lower costs, lower complexity and with less power and space requirements.

AMD FirePro Professional Graphics Unique Features
Certified & Optimised
For all major 3D applications for high performance and reliability.
GeometryBoost Technology:
Helps ensure smooth handling of complex, highly tessellated models.
AMD Eyefinity Technology:
Run up to 4 monitors from a single graphics card, boosting productivity by viewing entire workflows.
AMD PowerTune Technology:
Optimizes power usage in real-time based on current workflow demands.
AMD FirePro Professional Graphics for 3D Applications

For every need, there is a AMD FirePro Multi-View solution
Maximum compatibility:
Supporting all PCI bus lanes PCI, PCI-E (X16) PCI-E (X1).
Multi-display support:
Dedicated dual and quad outputs for crystal clear displays, without any loss of clarity.
Universal connectivity:
Supporting DisplayPort, DVI and VGA display outputs.
Ultimate reliability:
Passive cooled, energy efficient with estimated lifecycles (MTBF) of 500k hours.
AMD FirePro Multi-View Professional Graphics Solutions