AMCC, a global leader in network and embedded PowerPC processing, optical transport and storage solutions, has introduced a new 9690SA SAS Raid Controller Line. The new 3Ware-9690SA products for SAS/SATA solutions will soon be available for ordering via ASBIS B2B Marketplace.
3ware® 9690SA
AMCC builds on established 3ware SATA RAID leadership to introduce the 3ware 9690SA SAS controller, the new standard in Serial Attached SCSI RAID. As SATA and SAS technologies converge, users look to SAS to provide expanded connectivity and greater scalability and to the 3ware 9690SA for record setting performance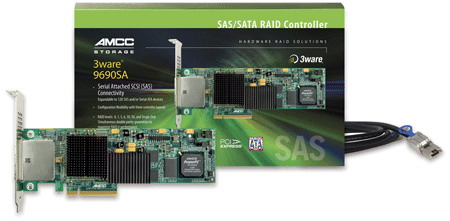 Expand with SAS
End users will enjoy configuration flexibility with three low profile PCI Express controller options: eight internal ports, eight external ports, or four internal/four external ports. Compatibility for industry standard SAS expanders will maximize scalability. Each 3ware 9690SA SAS controller scales to support 128 SAS and/or SATA devices.
Advanced 3ware RAID architecture and SAS, SATA, and SATA II performance features, including 3Gb/s and NCQ, help drive the 9690SA to unmatched RAID 5 and RAID 6 performance heights. An optional remote Battery Backup Unit with integrated write journaling provides added data protection in the event of a power outage. The 9690SA supports RAID levels 0, 1, 5, 6, 10, 50, and Single Disk.
3ware 9690SA Features
• 8th-generation StorSwitch™ non-blocking switched architecture
• On-board I/O RISC processor and RAID offload provides true hardware RAID
– SCSI device driver model to take advantage of SAS or inexpensive Serial ATA drives
• Bootable array support for greater fault tolerance of your OS
• Variable stripe size for performance tuning by application
• Support for greater than 2TB volumes
• 512MB DDR2 533 memory with ECC protection
• 128 max disk drives via SAS expanders
• Complete configuration management suite
– 3ware BIOS Manager (3BM) – easy to use BIOS configuration tool
– 3ware Disk Manager 2 (3DM®2) – browser-based management tool
– Command Line Interface (CLI) – scriptable configuration tool
• SNMP support
• SMTP support for email/pager notification
• Staggered drive spin-up support
• Auto carving allows LUNs > 2TB to be divided into multiple units for legacy operating systems limited to 2TB max. per LUN
• Remote Battery Backup Unit (BBU) support
• Write journaling for improved performance and data protection against accidental drive removal
• Multiple SAS/SATA RAID sets
• Multiple logical unit sizes and RAID levels on one card
• Hot-swap and hot-spare support for data availability
• Dynamic sector repair for robust data protection
• S.M.A.R.T. disk drive monitoring for reliability
• Emergency Flash Recovery protects against failed firmware upgrade
• Drive activity LED support
• Array/Drive Status and drive identification LED support
• Enclosure management via I2C and SES 2.0
• Drive insertion and removal notification.
• Online Capacity Expansion and RAID Level Migration
• RoHS compliant
Operating System Support
Microsoft® Windows® Vista/2003/XP/2000, Red Hat Linux, SuSE Linux, Fedora Linux, 2.4 Linux kernel, 2.6 Linux kernel, FreeBSD; 32/64-bit driver support for Windows, Linux and FreeBSD. For complete OS listing, Go to:
www.3ware.com/support/OS-Support.asp
About 3ware RAID Controllers
Award-winning 3ware RAID controllers deliver full-featured true hardware RAID to servers, workstations and storage systems. 3ware controllers are available in 2, 4, 8, 12, 16, and 24-port configurations in PCI™, PCI-X® and PCI Express® versions. Advanced RAID features like RAID 6, powerful performance architecture, and SATA II and soon-to-be-released SAS connectivity make 3ware controllers ideal for vertical applications that require the highest levels of sustained read and write performance. 3ware controller kits which include cables are available through AMCC's worldwide network of distributors, integrators and VARs.
For more information, visit www.3ware.com or www.amcc.com.
About AMCC
AMCC is a global leader in network and embedded PowerPC(r) processing, optical transport and storage solutions. Our products enable the development of converged IP-based networks offering high-speed secure data, high-definition video and high-quality voice for carrier, metropolitan, access and enterprise applications. AMCC provides networking equipment vendors with industry-leading network and communications processing, Ethernet, SONET and switch fabric solutions. AMCC is also the leading vendor of high-port count SATA RAID controllers enabling low-cost, high-performance, high-capacity storage. AMCC's corporate headquarters are located in Sunnyvale, California. Sales and engineering offices are located throughout the world. For further information regarding AMCC, please visit our web site at http://www.amcc.com.