BUY ONLINE
Available for order
in November
Acer Aspire 8940G at ASBIS B2B e-Shop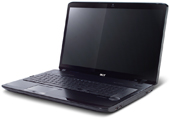 Acer introduced its Aspire 8940 notebook featuring an 18.4-inch display and an Intel Core i7 processor.
Other key features include a full 1080p screen resolution, an Nvidia GeForce GTS 250M graphics card, and Blu-ray reader.
The full specifications for the AS8940 model are as follows:
Intel® Core™ i7 Processor 720QM (1.60GHz, 6MB L3 Cache, 1333MHz FSB)
18.4" Full HD Widescreen CineCrystal™ LED-backlit Display
(1920×1080 Resolution, 16:9 Aspect Ratio)
4GB DDR3 Dual-Channel 1066MHz Memory
NVIDIA® GeForce® GTS 250M with 1GB dedicated DDR3 VRAM
500GB 5400RPM SATA Hard Drive
4X Blu-ray Disc™/DVD SuperMulti Double-Layer Drive
Multi-in-1 Digital Media Card Reader
Intel® Wireless WiFi Link 5100 802.11a//bg/Draft-N Wi-Fi CERTIFIED®
Acer Crystal Eye™Integrated Webcam
Touch-Capacitive Media Control Interface
5 USB 2.0 Ports, 1 HDMI Port, 1 eSATA Port
8-cell Li-Ion Battery (4800mAh)
Dolby Home Theater® Audio Enhancement
Acer CineSurround Sound System (5 built-in speakers)
Windows® 7 Home Premium 64-bit
Build and Design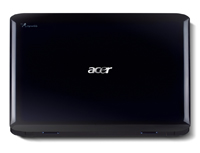 Acer shares the same overall look and feel throughout many of their notebook lines. The Acer Aspire 8940G shows quite a bit of resemblance to the Acer Aspire One keeping the same hinge shape and position as well as the protruding rear-edge of the main body that you can see when the lid is closed. The side profile of the 8940G doesn't look much thicker than a smaller 15" or 17" notebook. The sloped front and rear edge do a great job of masking thickness even further while also making it more comfortable to carry. Inside you have a completely flat surface containing the keyboard, touchpad, speakers, and multimedia keys. The keyboard is even recessed just enough so the flat keys lay flush with the outer bezel. Acer did an excellent job of making this laptop look user friendly and organized by keeping so many controls within a finger's reach.Notebook manufacturers face a difficult task when it comes to making large notebooks that feel sturdy but aren't overweight. Wider panels require more bracing to reduce flex and heavier notebooks require stronger panels so they don't flex under their own weight. The Aspire 8940G feels very well built with a solid frame and only minimal flex on the screen cover when the notebook is shut. The palrmest feels durable and shows no signs of flex even under strong pressure. The same applies to the keyboard and upper bezel, which show only minimal signs of flex under heavy pressure. The one complaint I have with the build quality of the notebook is the use of glossy plastics which scratch and smudge easily. If you are a neat freak then those smudge-prone glossy surfaces might get on your nerves over time.
The upgradability factor of this notebook looks great thanks to a single access panel on the bottom of the chassis. Simply remove the panel and you have access to the dual hard drive bays (one of which is unused in this configuration), two system memory slots, two mini-PCIe slots, and a partial view of the processor socket. I saw no "warranty void if removed" stickers anywhere, including the screws holding the heatsink onto the processor. If you want to add a second hard drive you will need to purchase a spare retention bracket, which mounts to the back of the drive, to prevent it from sliding out of place. The open mini-PCIe slot appears to be intended for an onboard TV-tuner, and as such doesn't have WWAN-antennas pre-installed.
Screen and Speakers
The 18.4" screen on the Aspire 8940G is an "all-glass" style with a protective layer covering the actual display panel. This gives the notebook a very clean and polished look, but also increases glare and reflections. With the notebook turned off the screen surface resembles a mirror and reflects the entire room around you. These reflections are reduced when the screen is on and displaying bright colors. In terms of overall quality the screen looks very nice with good color reproduction and above average contrast. The screen really draws you in while watching movies or viewing pictures as if you were viewing that place in person. Black levels look great and the only noticeable areas of light bleed are near the edges of the screen and only visible with the brightness set to 100%. Vertical viewing angles look good until you pivot the screen forward or back roughly 15 to 20 degrees. Horizontal viewing angles look nice right up until reflections off the screen start to overpower the image being displayed. At peak brightness the screen is still easily visible in bright office conditions as well as sitting near a window with the sun casting over the notebook.
Acer includes a 5.1 Cinematic Surround system on the Aspire 8940G that seems to sound a step above most notebooks. The audio system features five speakers, including a Tuba CineBass Booster to increase low-frequency sound. In practice the speakers produced a great surround experience, but I felt the peak volume levels were lacking. Even with the system volume set to 100%, the speakers were nowhere near being over-driven. This causes some trouble if you expect to use the system to watch a movie in your bedroom with it sitting on a dresser rather than on your lap. This can be avoided though if you use external speakers or a home theater system connected to the notebook.
Keyboard and Touchpad
Even though many notebooks are switching to Chiclet-style keyboards these days, Acer still uses a traditional design with thin flat-top keys instead. The design resembles lily patties sitting on a pond with a very thin top and the support structure tucked neatly out of view. The keyboard also offers a backlit which gives you great key visibility in dark settings. The underlying light elements are adequately shielded, preventing "light bleed" unless you view the keyboard at an angle shallower than 45 degrees. The backlight is non-adjustable in brightness, but you can turn it off completely.
The keyboard is very comfortable for typing thanks to properly sized keys and good spacing. The large 18.4" footprint allows Acer to incorporate a full-size keyboard as well as a full number pad. There is almost no "wiggle" or lateral key travel when you move your hand around the keyboard despite the thin looking keys. The keys are easy to trigger with roughly average pressure required and when pressed give off a very small click sound. The broad palmrest works very well for cradling your hands and wrists. Typing for hours at the notebook isn't a problem unless it is on your lap in which case your legs might not enjoy the weight.
The touchpad is a very large Synaptics model that rates very high on my list of best touchpads. It is quick to respond to fast movements, showing no discernable lag at any time. The surface texture is a soft matte finish that makes it easy to slide your finger across whether completely dry or slightly damp from sweat. The only significant complaint I have is the size. This touchpad is so much larger than most of the touchpads that I use that I end up clicking the bottom edge of the touchpad instead of the actual buttons. If you like big touchpads you will love the touchpad on the Aspire 8940G. The touchpad buttons are the same width as the touchpad surface and have a very short throw. Each button gives off a higher pitched clicking sound when you press down. Acer also includes a button to disable the touchpad to prevent accidental movement when using an external mouse. This button is located to the right side of the touchpad and lights up when activated.
Ports and Features

The port selection on the Acer Aspire 8940G is phenomenal. Acer gives you four dedicated USB ports, one eSATA/USB combo port, Firewire 400, VGA, HDMI, DisplayPort, LAN, and audio jacks including digital audio out. To load pictures from a digital camera, there is a flush-mount SDHC-card slot on the front side of the notebook.
On the left and right side of the keyboard there are touch-sensitive control keys. The left side has three buttons including one for Wi-Fi On/Off, one for Bluetooth On/Off, and another to access the Acer Backup Manager. The right side offers media quick-access keys including a Media Center button, hold button, skip, play/pause, stop, and fast forward controls, and a switch to enable or disable the touch sensitive buttons. The volume control is a metal rotating dial that gives a slightly more precise method to adjust the volume than a touch-sensitive slider.

Performance and Benchmarks
The Asipre 8940G performs very well in games as well as playing high-definition video. The Intel Core i7 processor didn't even work up a sweat while we pushed 720P and 1080P video its way. While it is pretty sure this system would have no problem playing Blu-ray movies, we were unable to test playback since Acer didn't include software to decode Blu-ray movies. PowerDVD or another equivalent software package is usually included with systems that offer Blu-ray drives as an option, but we guess Acer wanted to save on the cost of licensing fees and left this up to the customer. The NVIDIA GTS 250M graphics handled Left 4 Dead at 1920×1080 resolution with high detail settings very well. Playing with multiple zombies on the screen framerates still stayed above 30FPS with the average being in the lower 40s. If the detail settings were tweaked slightly or the resolution was lowered to 1280×768, I don't see any reason why you couldn't get framerates above 60FPS.
Wprime processor comparison results (lower scores mean better performance):

PCMark05 measures overall system performance (higher scores mean better performance):
3DMark06 measures overall graphics performance for gaming (higher scores mean better performance):

Heat and Noise
The Acer Aspire 8940G maintains very good temperatures even though it has an Intel Core i7 processor and NVIDIA GTS 250M graphics card. Heat coming through the palmrest and keyboard is minimal while running stressful benchmarks and games. The only hotspot worth noting on the top of the system is near the left side of the touchpad, which crept up to 91 degrees Fahrenheit after stressing the CPU and graphics card for more than 30 minutes. Fan noise is very tolerable when the system is performing run-of-the-mill activities. If the processor and graphics card utilization is low the fan is either off or spinning very slow. While gaming the fan throttled between its slower and faster speeds, neither of which was louder than most notebooks.
Battery Life
Battery life is never the strength of large notebooks, even more so when you combine the large screen with a powerful processor and dedicated graphics card. The Acer 8940G stayed on for 3 hours and 10 minutes in our battery test with the screen brightness set to 70%, the power profile set to "balanced," and the wireless active. Power consumption varied between 18 and 24 watts during the test.
Conclusion
The Acer Aspire 8940G is a well built and good looking multimedia notebook that can also game. The sound system is great if you can get past the weaker volume levels. The spacious 18.4" display is great for sharing a movie in a small room; something that might be difficult with a 15" or 17" notebook. System performance is very good with the Intel Core i7 processor and NVIDIA GTS 250M graphics although slightly less than true gaming notebooks. The biggest strength of the 8940G though is its competitive price, which is lower than any other Core i7 system currently on the market.
Pros:
Huge touchpad
Comfortable backlit keyboard
Beautiful display
Cons:
Knee breaking 9lbs 5.5oz
No Blu-ray software
To learn more about Acer Aspire 8940G >>
More news about Acer