Buy online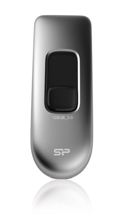 Taipei, Taiwan – June 27th, 2014 –SP/ Silicon Power, the world's leading provider of memory storage solutions, today releases the ultra-fast USB 3.0 flash drive—Marvel M70. Incorporating the surprisingly high transferring rates up to Read/ Write 240MB/80MB/sec and incredibly large capacities up to 128GB, Marvel M70 appears to be the most powerful addition to its current USB 3.0 portfolio, also marking the milestone of memory storage industry. Steering away from conventional designs, Marvel M70 exercises the design concept of sports car and features the sumptuous, sleek and dynamic character with artistically delicate craftsmanship and luxurious zinc alloy casing. Featuring extraordinary performance and contemporary appearance, Marvel M70 embodies the spirit of high-fashion technology which thoroughly shows the new vision of storage device design.
SuperSpeed USB 3.0 interface — Incredible, Invincible, Irreplaceable
SP Marvel M70 USB flash drive introduces the SuperSpeed USB 3.0 data transferring interface which gears to the growing demands for speed and efficiency. Optimizing the advanced USB 3.0 specifications, Marvel M70 performs the extremely fast speeds up to 240MB/sec read and 80MB/sec write, enabling professional users such as photographers, videographers, gamers and businessmen to easily edit or store large files including graphics and HD videos. In addition, Marvel M70 employs the intelligent retractable USB connector by which users can operate the drive with a simple push of a thumb. Also, the retractable USB connector design takes convenience and data safety into consideration that it is not only totally cap-less but also truly protective to keep the drive away from dust and debris. Furthermore, Marvel M70 features the ergonomic curving finish which allows the perfect touch for daily using and holding.
Modern Style with Metallic Casing
SP Marvel M70 USB flash drive is built with untraditional and dynamic shape design that conveys the strength and grace in the same time. Simple yet powerful, Marvel M70 executes sleek and succinct lines to express the sense of speed and power. Moreover, Marvel M70 is artistically crafted with luxurious metallic material of zinc alloy and exquisite sandblasting treatment that altogether create the high-end visual enjoyment. Combining exceptional performance and head-turning designs, Marvel M70 is the drive for professional and modern users. To better satisfy different mobile needs, Marvel M70 offers multiple choices of storage capacities including 32GB, 64GB and 128GB. All Silicon Power USB flash drive products come with a lifetime warranty, SP Widget application software which provides seven major back up and security tools and a 60-day trial version of NIS (Norton Internet Security). Furthermore, SP also provides users with the Recuva File Recovery software which allows users to easily rescue the deleted files including digital photos, documents, music and videos. For more information, please visit the Silicon Power website: www.silicon-power.com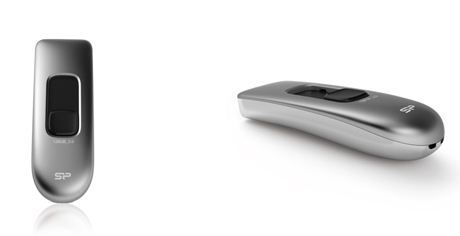 Marvel M70 Product Features:
SuperSpeed USB 3.0 interface with speeds up to Read/Write 240MB/80MB/sec
Luxurious zinc alloy casing
One-handed operation with intelligent retractable USB connector
Ergonomic shape design, easy to use and hold
Cap-less design to keep the drive away from dust and debris
SP Widget free download software, providing 7 major back-up and Secure functions
Recuva File Recovery software,allowing recovery of erased files, such as digital photos, documents, music and videos
Marvel M70 Product Specifications:
Dimension:56.6 * 20.0 * 12.4 mm (+/-0.3mm)
Weight:16.8g (+/-10%) lCapacity:32GB、64GB、128GB lMaterial:Zinc Alloy/ Plastic lColor:Dark grey / Silver lInterface:USB 3.0 / USB 2.0/ USB 1.1 compatible lOperating temperature:0° C ~ 70° C
Supported OS:Windows 8/7/XP, Mac OS 10.3.x, Linux 2.6.x
Certification:CE/FCC/BSMI/Green dot/WEEE/RoHS/KCC
Warranty:Lifetime warranty
About SP / Silicon Power
Silicon Power Computer & Communications Inc., founded in 2003 by a group of enthusiastic specialists of flash data storage industry. Well dedicated in brand image and product quality, SP has been recognized and well accepted by millions of end-users in more than 100 countries, becomes the world's leading manufacturer of flash memory cards, USB flash drives, card readers, DRAM modules, solid state disks, and portable hard drives in less than a decade. Headquartered in Taipei, we continuously established various branches throughout the world including Netherlands, Japan, Russia, Mainland China and other emerging market. With superior quality and innovative design, our products stood out in many competitions and awarded with numerous well-known design awards, such as Taiwan Excellence, COMPUTEX Design & Innovation Award, red dot design award, iF Design Award and IDEA . Winning trust of global consumers SP holds a record of successive double-digit revenue growth for last ten years. For SP, the product we introduced is not only a digital storage device but also a real promise to create and preserve your most valuable memory in every moment.