GORINCHEM, the Netherlands – CANYON is happy to announce special promotional days for its customers from all around the world. From now on, Tuesdays are synonym of CANYON with the 'Tuesday – CANYON DAY' campaign. This new initiative was successfully launched on the 25th of November 2008, and will continue throughout the year 2009.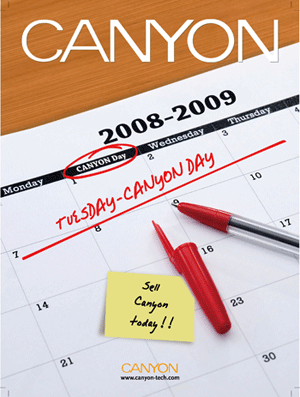 Retailers and dealers selling CANYON can now expect to receive mailings on every Tuesday, presenting a few products from the portfolio, their specifications and recommended selling prices. But wait! That's not all! Customers also benefit from promotions on the week's selection. As the name of the campaign reveals it, these special offers on CANYON products are only valid on Tuesdays!
We have an attractive portfolio with practical, easy-to-use and trendy products. We are proud to offer one of the best price/quality ratios in the market. CANYON fits all budgets: its competitive prices are very appreciated by end-users, especially in these difficult financial times.
Since it foundation in 2003, CANYON cultivate a positive reputation by offering great margins to the customers. CANYON definitely offers a profitable business opportunity, and it is yours to seize!
Remember: From now on, Tuesdays are CANYON days!
Do not hesitate to contact your local Asbis office for more information on the 'Tuesday – CANYON Day' campaign.
Discover Canyon products portfolio at ASBIS B2B Marketplace!
About CANYON
CANYON is a cheerful, young and dynamic lifestyle brand that thrives to make life more comfortable by offering a wide range of practical, easy-to-use and affordable IT-related consumer electronics and computer peripherals to the many people. Our product range is developed with our commitment to offer beautiful and stylish product design at competitive prices, without compromising the quality. Founded in 2003, CANYON is one of the world's fastest growing brands in its industry in Asia and the EMEA region. For more information, contact press@canyoncorporate.com or visit our website: www.canyon-tech.com
Buy other CANYON products at ASBIS B2B e-Shop