At Computex 2009, Transcend shows its incredible array of cutting-edge products, including top-quality memory modules, USB flash drives, flash memory cards, MP3 players, portable hard drives, solid state drives, digital photo frames and accessories
The highlights of Transcend`s presentation includes the following must-see products: aXeRam™ DDR3-1800 Extreme Performance memory kits, SDHC™ HD Video memory cards, the ultra tiny T5 and beautiful V95 JetFlash USB flash drives, 192GB 2.5" SATA solid state drives, the new SSD18M 1.8" portable SSD, the new StoreJet 18M mini shockproof portable hard drive , and the award-winning StoreJet 25M and 25C hard drives. These stylish products and their innovative features demonstrate Transcend`s dedication to uphold its reputation as a respected leader in the consumer electronics industry. In addition, Transcend`s new high-speed 2.5" SATA 3Gb/s SSDs, the exciting PF730 digital photo frame, the versatile MP860 and the attractive MP320R digital music players debuts at Computex 2009.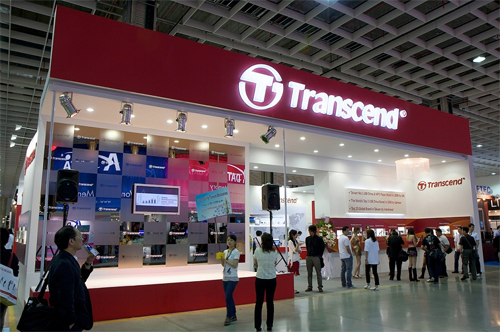 Transcend's new line of high-speed 2.5" SATA 3Gb/s solid state drives are equipped with 64MB DRAM buffer to offer incredible transfer performance up to 230MB/s read and 180MB/s write. Now available in 60GB and 120GB capacities, these powerful new SSDs can significantly increase overall system performance and can be easily installed in most notebook or desktop computers.
Transcend`s brand-new PF730 Digital Photo Frame has a bright, high-resolution (800×600) photo-friendly 4:3 screen, advanced NaturaTone user–selectable color modes, and an Automatic Orientation Sensor (AOS), all of which enhances the viewing experience and guarantees photos look their best. The PF730 comes with a full 2GB of internal flash memory, and users can choose to view photos one at time, in customizable slideshows, or in a convenient tiled thumbnail view. In addition, the PF730 is equipped with a full-featured MP3 player that allows users listen to music while viewing photos at the same time.
Transcend`s MP860 digital music player boasts a high-contrast 2.4-inch full color screen and a multitude of powerful features. The MP860 offers superb sound quality, with support for newer file formats such as FLAC and OGG, as well as MP3, WMA, WAV, and WMA-DRM10 protected music files. Thanks to the player`s large built-in speaker, users can listen to great sounding music even without headphones. For storing videos, music and photos, the MP860 comes with up to 8GB of built-in memory, and also features a convenient microSD/microSDHC expansion slot for virtually unlimited digital entertainment.
Created with fashion-conscious female consumers in mind, the compact and lightweight MP320R has a glossy eye-popping color scheme that emphasizes individuality and unique personal style. Hidden behind the player`s mirror-like fascia is a vivid dual-color OLED screen that allows text content such as song titles and lyrics to easily be read at any angle. The MP320R is a versatile combination of a digital music player and a portable storage device; thanks to its built-in USB connector, the MP320R operates just like a USB flash drive, making it easier to transfer files from any computer.
Aside from its impressive display of hot new products, Transcend plans to entertain visitors with many exciting activities, which includes model runway shows, high-energy showgirl dance routines, as well as exciting prize drawings throughout the duration of the exhibition. Please come and visit Transcend during Computex 2009 to find out how Transcend brings you Tomorrow's World, Today.
Related news about Transcend products