You have never be so fast and intuitive on the road, but thanks to Prestigio and iGO Primo, you can be. Prestigio are releasing on the market this year in June the new 5" Personal Navigation Device - GeoVision 5850. With other great engine – GeoVision 7777 both build the NEW Smart Series, which make driving a real pleasure. Their iGO primo software cards contain detailed maps of Europe.
The model GeoVision 7777 turns the future of technologies into reality for customers. It combines a full tablet PC, running on Android 4.0 Ice Cream Sandwich and a GPS Simply Advanced Navigation, using iGO primo. Thanks to the digital TV tuner on a 7" multitouch display customers can enjoy professional routing and multimedia entertainment not only in their cars, but also in their free time for fun activities. The GPS Navigator Tablet PC has many carefully selected applications preinstalled and gives users an access to 700,000 more through Google Play. Due to its two front and rear cameras the users of the navigation can take photoes and record the traffic in front of them. In case of an internet connection the device receives automatic firmware updates over-the-air. It is equipped with an 8GB internal flash memory (by default) and additional storage is provided thanks to a micro SD cards supporting slot. The GPS Navigator provides extra connectivity via a USB host for 3G dongles, like external hard disc drives, mice,
The speed of the processor and the huge memory capabilities make the GPS devices ideal for entertainment in users' leisure time. This is made possible for you due to the multitude of multimedia applications they possess and the fact that they constitute a combined version of a GPS navigation and an Android-based device. Both GPS models dispose with a camera, Wi-Fi and the model GV7777, in particular, offers the option of a 3G modem connectivity and also digital TV.
One of this concrete model's strongest and most convenient characteristics is its HDMI port, which allows users to stream video and audio content without decreasing picture quality. With the help of a mini HDMI adapter or a corresponding HDMI cable, the Prestigio device can be used as a video player for the TV.
As an added value advantage, Prestigio provides customers a 2-year-warranty and a 30 days free map update.
The GPS model - GeoVision 5850, also combines two devices in one – GPS Navigation and an Android tablet. It runs on an operating system Android 4.0 and has a 5" TFT capacitive Touch screen display with a 800x480 resolution. GeoVision 5850 has fast 1GHz processor and a memory of 512 MB, extendable through a micro SD card to 32 GB. iGO primo software with card from Navteq maintains route of Full Europe. The model possesses a USB port and a camera with which users can record the scenery while driving due to a specially installed application. GeoVision 5850 has a Wi-Fi connection, a built-in speaker and an FM Transmitter for radio stations. It also constitutes a navigator and a tablet in one, but has a slightly smaller size.
This device will keep good memories of the customers' journeys and its compact size makes it easy and convenient to use.
Both GSP models have capacitative touchscreens, which are made user-friendly to facilitate Prestigio customers. This type of screens provide a more pleasant experience for clients. Actions like flicking through online lists, zooming in and out of webpages and maps, typing emails and text messages and scrolling through photoes are best suited for them. Thanks to the Picture-in Picture function, inherent for the devices, consumers can watch two photos at the same time or a certain programme, while waiting for another one to start or for advertisements to finish. Users of the Navigation devices can switch them on and watch the road through the camera simultaneously.
Technical specifications of both GSP devices for further reference
GeoVision 7777 - PGPS7777EU008GBNG specifications and key features: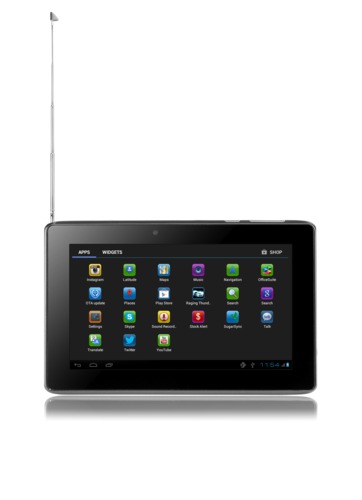 Software: Navitel; Display: 7"|17.8 cm; Resolution: 800x480 pixels; СPU: Telechips A5, 1.2GHz Int. SD; RAM: 1GB DDR3; Memory: 8 GB; Expansion: Micro SD card slot supporting up to 32 GB; Opertaing system: Android 4.0 Ice Cream Sandwich; Interface: USB 2.0, HDMI; Camera: 0.3MP front | 2.0MP rear; Speaker: Integrated; Battery/Type: Li-Po 2900mAh; Dimensions: 191.8(L) x 123(W) x 9.5(H) mm Digital TV tuner; FM transmitter; Internet access via built-in Wi-Fi 802,11 B/G or 3G modem; USB host for 3G dongles; Precise voice guidance in numerous language; High definition 3D visualization; Multi destination routing; Speed limit warning; Front and rear camera; High capacity Li-Ion battery.
GeoVision 5850 - PGPS5850CIS8HDDVRNV specifications and key features: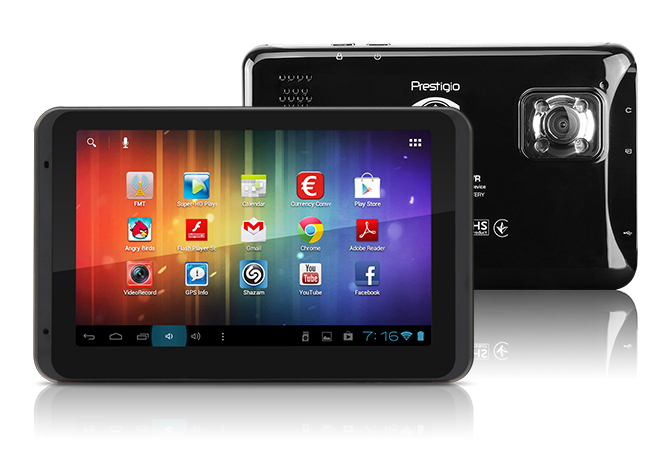 Software: Navitel; Display: 5"|12.7 cm; Display type: TFT Capacitive multitouch; Resolution: 800x480 pixels; CPU: ALLWINNER A13 Cortex A8 1GHz; Memory: 512 MB DDR3; RAM/ 8GB flash; Expansion: Micro SD card slot supporting up to 32 GB; Device OS: Android 4.0 Ice Cream Sandwich; Interface: USB 2.0; Speaker: Built-in speaker 1x1.5 W; Battery/Type: Li-Po 1000 mAh; Internet access via built-in Wi-Fi; FM transmitter; Built-in G-sensor; Free Car Video Recording function via built in App; Camera: 1.0 MP; Viewing angle 120; Video resolution 1280x720; Frame rate of 30FPS; uilt-in 4pcs infrared lights; Up to 320 min recording time (on 32BG SD); Automatic video recording at powet up & Automatic ovewrite functoion; Video lock function; Picture-in-Picture.
For more information on iGO Primo please click here.
You can download map updates at your profile on our web-site naviextras.com.