Limassol / Munich. Prestigio, a dynamic international vendor of state-of-the-art products for Digital Home and Digital Office for style-conscious consumers, presents an innovative car cradle for all kinds of mobile devices.
The Smart Mount features a very flexible concept: The SMART MOUNT can be attached to the dashboard with the SMART MOUNT button as well as to the windshield with a suction pad – fast and safe. With a single click you can attach your mobile device – GPS, MP3 player, mobile phone – regardless which brand.
Modern interior car design makes mounting a GPS on the windshield uncomfortable, as it is hard to reach. The Prestigio Smart Mount button secures the cradle on almost every dashboard (not leather or fabrics).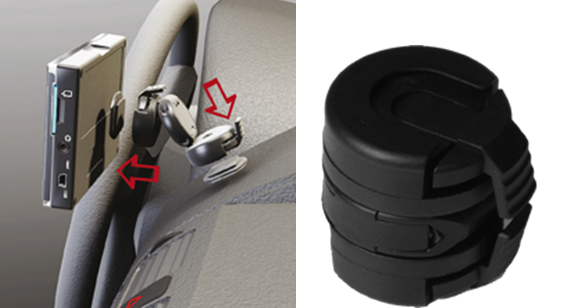 Thanks to the micro design and light weight (100g only) of the Smart Mount it can be detached and stored easily. This flexible, comfortable and safe concept makes the Prestigio Smart Mount a great solution for usage in private and rental cars.
The Prestigio Smart Mount is available throughout Europe at Prestigio retailers now at RRP EUR 16.90
About Prestigio
The Prestigio brand offers an exclusive combination of elegance, sophistication, high product quality, advanced technology and state-of-the-art design to more than 70 countries. Prestigio aims to provide an enhanced quality of life with affordable luxury products to those who enjoy a contemporary lifestyle. The portfolio encompasses various collections with GPS navigators, nettops, mobile storage devices, eBook Readers, Apple accessories, and more. The brand is committed to providing innovative and reliable product to meet the growing demand for accessible, modern IT-related products and consumer electronics. Feel free to contact press@prestigio.com for any questions or visit www.prestigio.com. Key distributor of Prestigio products is ASBISc Enterprise Plc.