As a part of a rebranding strategy, Prestigio is pleased to announce the launch of its new and improved website to suit its new visual identity. It is immediately accessible at our regular URL: www.prestigio.com
The most dramatic improvement lays in the graphic design and and interface.
"We believe it is essential that our brand keeps its established heritage and identity, while remaining dynamic and relevant", explains Catherine Lazure-Guinard, Communications Manager at Prestigio. "The new design now reflects much more elegance, sophistication and quality. We recently clarified the positioning of Prestigio, and the upgraded website is a great step in the revitalization process."
The updated site also provides a more compelling experience for visitors, and the navigation is more intuitive and user-friendly. It is now easier to browse through Prestigio's portfolio and collections. It also provides a wider format, an improved home-page and more frequent news updates. A media room is another feature of the new Prestigio website.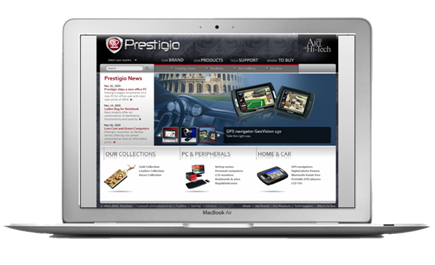 Prestigio products at ASBIS B2B marketplace