Prestigio has released new external hard drive - Data Safe III designed to impress with quality and special appearance.
It will respond to everybody's requirements for style and unmatchable look. This vogue combination of classic black and eternal golden colour is made to charm and to set up the newest tendencies of hi-tech fashion world. Special data case complimented with the gift box gives the perfect entity of the ideal present a corporate man can make to himself or to a partner. This external data storage is not only for business people, but for all those who want to escape from the grey metallic devices on retail shelves and wish to stand out of the crowd with something dazzling and modern.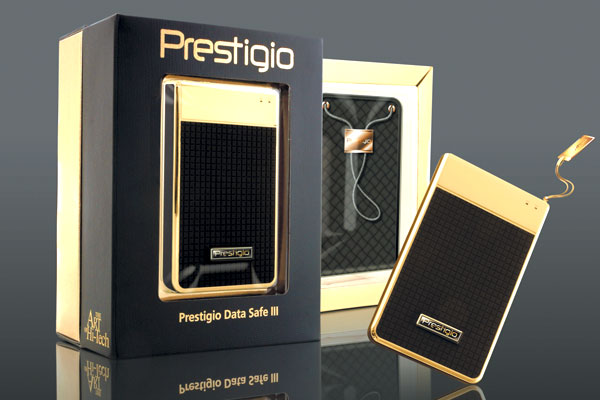 The recently introduced Data Safe III is an external hard drive with 2.5" built-in mobile drive that excites with its functionality and has up to 500 GB capacity. The device has Hi-Speed USB 2.0 interface to ensure fast transfer of the data. Thanks to the Plug & Play technology (which doesn't require any installations) user will be pleased to have easy and quick access to all his files and folders.
| | | |
| --- | --- | --- |
| | | |
| Amazing gift packaging of black and gold | 500 GB inside slim sophisticated body | Luxurious and stylish unique handbag |
One small extra gives to the owners absolute confidence and this is the opportunity to password lock the device in order to ensure the protection of all confidential or personal information that it stores. One Touch Backup button keeps updated all the important data and will save a lot of troubles to many people who forget to backup their important folders, or simply don't want to bother
Technical details and benefits
Serial ATA HDD inside
Up to 500GB capacity
Enclosure encased with unique handbag
One-Touch Backup, password secured data storage
Exclusive, classy design with an exquisite finish
Plug & Play, Hi-speed USB 2.0 interface
Besides all the technical advantages that Prestigio Data Safe III presents, the product design is also improved as the black silicon cover is made with square patterns. The appearance is strong and masculine with delicate touch. The top metal part is plated with 23 carats gold. Together with the U-shaped, delicate touch of rubber surrounding the device, the overall combination of gold and black color presents elegancy and nobility.

Buy Data Safe Safe III online at ASBIS B2B marketplace
| More information about Data Safe Safe III
More Prestigio news
About Prestigio

Prestigio Technologies Ltd. is a highly dynamic IT company providing Digital Home and Office consumer solutions to the market. Having started as a small R&D subsidiary of ASBIS Group, during the last several years Prestigio has become a supplier of unique hi-tech solutions and products to consumer market. Digital Home and Digital Office are the two main focus areas of the company. Investing in the combination of "The Art of Hi-Tech" (solutions where hi-tech products become works of Art), the company has uniquely positioned itself on the market. Currently headquartered in Cyprus, Prestigio actively operates in the EMEA region through representative offices and business partnerships located in key business centres of the region and offering its customers an excellent portfolio of cutting-edge IT products and value-added services. For more information please visit www.prestigio.com.