Many magazines reporting on interior decorations and home furnishing trends confirmed it: white accessories for a pure, sleek look are still very popular this season, and their popularity among style conscious customers is growing strong. To help consumers and businesses creating a more effective and enhanced network performance without compromising on style, CANYON is introducing two new products with a glossy white design. The fresh look of the router CNP-WF514N1 and USB adapter CNP-WF518N1 will surely complement any modern interior.
These two new products are not only about style: They also deliver great connectivity and fast data transfer, and they both support a speed of 150Mbps.
4-port router
To optimize your wireless Internet connection, CANYON offers the CNP-WF514N1, a 4-port router. Ideal for a small office or at home, this product enables you to connect devices such as computers, notebooks, external HDD and printers to the network with a wireless (802.11n) connection. It also allows an access to Internet as well as faster file sharing and printing. This device is slim and compact for a convenient positioning. The CNP-WF514N1 was conceived with the special needs of businesses and professionals in mind, and combines stylish design with high-quality.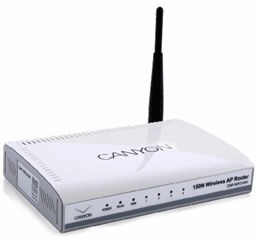 Key features:
Integrated 802.11b/g/n wireless access point (AP) with transfer rate up to 150 Mbps
Supports WPA/WPA2 and 64/128 bit WEP encryption
One WAN port, four 10/100 Mbps LAN ports
Built-in firewall
Built-in DHCP server
Friendly web-based user interface
Supports WMM function for seamless multimedia and VoIP data streaming
Compatible with WPS technology for easy and secure configuration
Works in different wireless modes: AP, AP Client, Bridge, WDS and Universal Repeater
Recommended Retail Price: US$ 64.99
Adapter
To complement this router and to provide wireless capacity (802.11n) to standard devices with USB ports such as desktop PCs and notebooks, CANYON recommends the new adapter CNP-WF518N1. It enables an access to Internet as well as faster file sharing and printing at a speed of 150 Mbps. The CNP-WF518N1 is suitable for various operating systems, and it is an affordable solution for a reliable and simple wireless network. This product is easy to install, and it has a compact and sleek white design.
Key features:
Uses USB port to connect to PC – flexible, easy to install
High-speed wireless connectivity: this product supports IEEE 802.11n (Draft 2.0) industry standard for up to 150 Mbps transfer rate
Backwards-compatible with older 802.11b/g devices running at 11/54 Mbps
Supports WEP and WPA/WPA2 encryption to secure your wireless network from unauthorized use
Comes with drivers for all major operating systems
Recommended Retail Price: US$ 29.99
For more technical specifications or high resolution pictures, you can visit our website, contact your local Asbis sales office or contact Canyon PR manager.
For other CANYON products, visit ASBIS B2B e-Shop
About CANYON: CANYON is a cheerful, young and dynamic lifestyle brand that thrives to make life more comfortable by offering a wide range of practical, easy-to-use and affordable IT-related consumer electronics and computer peripherals to the many people. Our product range is developed with our commitment to offer beautiful and stylish product design at competitive prices, without compromising the quality. Founded in 2003, CANYON is one of the world's fastest growing brands in its industry in Asia and the EMEA region.