Buy online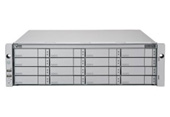 HSINCHU, Taiwan and MILPITAS, Calif., – July 24, 2014 – PROMISE Technology Inc ., a global leader in the storage industry that develops solutions for the cloud/IT, rich media and video surveillance markets, today announced the availability of the Vess R2600xi with 10Gb/s SFP+ iSCSI ports designed for fiber optic networks. The new Vess R2600xi offers low latency, less power consumption and provides a greatly reduced overall total cost of ownership for customers requiring Ethernet-based iSCSI SAN storage.
The Vess R2000 Series is a unified storage solution with Fibre Channel (8Gbps), iSCSI and NAS (1Gbps and 10Gbps) host connectivity in one box, offering small and medium-sized businesses (SMBs) a range of high-performance single or dual controller solutions to meet various application challenges and requirements. Applications, such as virtualization, place a growing importance on network performance and the Vess R2600xi enables businesses to leverage 10G Ethernet to deliver higher speeds, lower costs and utilize less management overhead.
Additionally, the Vess R2000 storage series, including the Vess R2600xi, are now certified DataCore Ready for SANsymphony-VTM storage virtualization platform from DataCore Software . In order to be certified DataCore Ready, the Vess R2000 Series completed additional verification testing to ensure a superior level of joint solution compatibility ensuring it is optimized for DataCore SANsymphony-V. Integrating the Vess R2000 Series and SANsymphony-V can assist users in maximizing storage productivity, improving storage utilization, simplifying administration and accelerating performance to speed up workloads and faster response times.
"We are very pleased to expand the Vess R2000 Series to provide our customers with more flexibility so they can choose the best solution that meets their demands for performance, scalability and reliability," said James Lee, CEO, PROMISE Technology. "With the Vess R2000 Series now certified DataCore Ready, customers can seamlessly integrate our solutions with SANsymphony-V storage virtualization software for a superior level of compatibility and optimized performance."
"Integrating our SANsymphony-V software-defined storage platform with the Vess R2000 Series will provide an added capability to PROMISE customers," said Peter Thompson, vice president of emerging markets at DataCore. "Enabling a software virtualization layer allows customers to maximize their storage productivity and accelerate network performance, and we are excited to partner to implement this unique advantage."
Availability
The Vess R2600xi and the entire DataCore Ready Vess R2000 Series are available now through the PROMISE global network of distributors and value added resellers.
For more information, visit www.promise.com/vessR2000
About PROMISE Technology Inc.
PROMISE Technology is a recognized global leader with 25 years of experience in the storage industry. PROMISE has developed its own enterprise-class hardware and software storage architecture, in addition to complete SAN, NAS and unified storage platform product lines. PROMISE is also committed to providing dynamic software defined storage solutions for vertical markets, including cloud and IT storage solutions, video surveillance storage solutions, rich media storage solutions and much more. With industry leading technology and research and development capabilities, combined with highly experienced global sales and after sales service teams, PROMISE is at the forefront of the industry with the highest levels of customer satisfaction. PROMISE Technology is an ISO-9001:2008 and ISO-14001:2004 certified manufacturer with operations and sales and support teams throughout the Americas, EMEA, and APAC regions providing unparalleled service and support to customers around the globe. For more information, visit: www.promise.com .