With Christmas at the door, it is sopping time. Stores are crowded, and many people waited until last minute to get the perfect gifts for their friends and family; but even at the last minute, it is possible to find a personal, thoughtful gift for your loved ones. Here are a few ideas from CANYON, who wishes you a Merry Christmas and Happy Holidays!
For the traveling business person in your life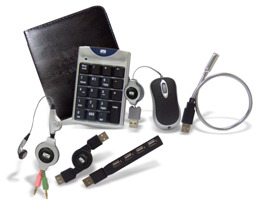 For notebook users frequently on-the-go, CANYON bundled several accessories for your convenience in the CN-NP1. Packed in a luxurious travel case, all products are lightweight, compact, functional and of good quality.
It is a very practical solution for professionals and students alike. The notebook pack contains: Stereo headset with microphone, a slim 4-port USB Hub, a numeric keypad, a lamp, an optical mini mouse with retractable cord, an expansion cable.
For friends and siblings living far away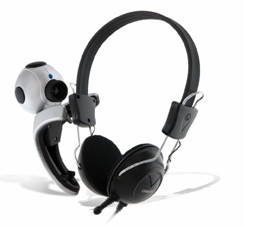 Stay connected with your loved ones in 2009 by offering those living far away a CANYON Chat Pack; a simple and user-friendly solution for Internet communications combining color-assorted headset with microphone and webcam.
All you need for great video calling sessions is in one box! The remarkable success of such 'value pack' makes it our most popular product ever. Make your selection among our various models to find a Chat Pack that suits your needs and style. All bundles are compatible with the major instant messaging applications such as Skype, MSN, and Yahoo.
For the sportive types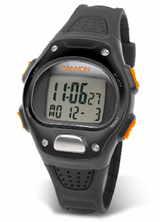 A watch is a great gift for sports enthusiasts, but finding a model that combines style, practical functions and an affordable price can be difficult. CANYON offers all that and more, with its Sportsline and the outdoor instruments in its portfolio.
The latest addition is the CNS-SW4, which features a patented finger touch sensing technology for a fast and precise heart rate monitoring. Ideal for sports such as hiking, jogging or biking, the CNS-SW4 helps you keep track of your performance with its advanced but easy-to-use functions such as calorie counter, heart rate alert, chronograph and alarm. Like all other products in our Sportsline, the CNS-SW4 is resistant to shock, dust and water (to minor and accidental splashes) for a durable performance.
For the gamers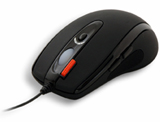 Offer great gaming sessions this Christmas, with CANYON's CNR-MSL7. It features twin laser eye technology, which ensures high quality, precise tracking and speed –everything a gamer needs!
The mouse also has 7 buttons including a 'fire button', as well as adjustable sensitivity levels up to 2500 dpi for an improved performance. The sleek design and comfortable grip of the mouse enhance a pleasurable navigation on virtually any surface.
For the whole family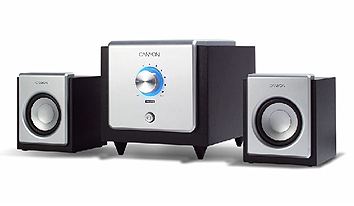 The CANYON CN-SP21B Multimedia speakers set is an affordable and practical gift for the whole family: Enjoy pleasant moments together to the sound of your favorite music, and experience great acoustic while watching movies.
This sound system is suitable for all audio devices such as an iPod and other MP3 players, a DVD player, a Walkman, a Discman, a TV, a desktop PC and a notebook. The CN-SP21B has a built-in OCL amplifier and two additional speakers to generate impressive sound quality. It also features a stylish design in black and silver color scheme, with a trendy blue back light for the volume control.
Buy other CANYON products at ASBIS B2B e-Shop

About CANYON
CANYON is a cheerful, young and dynamic lifestyle brand that thrives to make life more comfortable by offering a wide range of practical, easy-to-use and affordable IT-related consumer electronics and computer peripherals to the many people. Our product range is developed with our commitment to offer beautiful and stylish product design at competitive prices, without compromising the quality. Founded in 2003, CANYON is one of the world's fastest growing brands in its industry in Asia and the EMEA region.