Storage Performance Council SPC-1C and SPC-2C benchmarks first to measure performance at component level.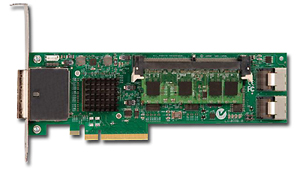 LSI Corporation (NYSE: LSI) announced that it has established the first RAID adapter performance results for the Storage Performance Council's (SPC) new component benchmarks using the LSI™ MegaRAID® SAS 8888ELP adapter. The SPC-1C™ and SPC-2C™ are the first industry-standard benchmarks for measuring the performance of inpidual storage components during the execution of typical business-critical applications.
Using standardized SPC-1™ and SPC-2™ system-level workloads, the new component-level benchmarks provide end-users, vendors, resellers and integrators with the ability to evaluate and compare the performance of inpidual storage components such as server-based RAID and host bus adapters, intelligent enclosures, disk drives and storage software.
"Today's storage solutions have become too large and too complex to measure and compare performance using existing system-level benchmarks alone," said Kelly Bryant, DAS RAID business line director, Engenio® Storage Group, LSI. "With the new, fine-granularity SPC component-level benchmarks, we're able to demonstrate the outstanding performance of our direct-attached storage solutions based on our RAID-on-Chip ICs and MegaRAID software."
The SPC-1C benchmark is designed to demonstrate the performance of a storage component while running applications requiring random I/O operations such as OLTP, database operations and mail server implementations. The LSI MegaRAID adapter achieved an SPC-1C performance result of 4,234.44 SPC-1C IOPS™ for a direct-attached storage subsystem configuration consisting of twenty-four Seagate Savvio® 15K 3Gb/s SAS hard drives with RAID 5 data protection.[1]
The SPC-2C benchmark consists of three distinct workloads intended to demonstrate the performance of a storage component during the execution of applications such as video-on-demand, file processing and database queries that require sequential transfer of large quantities of data. The MegaRAID adapter produced a result of 683.66 SPC-2C MBPS™ for a direct-attached storage subsystem consisting of twenty-four Seagate Savvio 3Gb/s SAS drives in RAID 5 configuration.[2]
"The SPC component benchmarks establish a new standard for users seeking to compare the performance of single- and multi-vendor storage components," said Walter E. Baker, Administrator and Auditor for the Storage Performance Council. "With these results, LSI has achieved a significant industry milestone in demonstrating the performance of a single RAID adapter under typical end-user application scenarios."
More information on the complete family of LSI MegaRAID SAS/SATA adapters : [1] [2]
About SPC:The SPC is a non-profit corporation founded to define, standardize and promote storage system benchmarks and to disseminate objective, verifiable performance data to the computer industry and its customers. SPC membership is open to all companies, academic institutions and inpiduals. The SPC created the first industry-standard performance benchmark in 2001, targeted at the needs and concerns of the storage industry and its goal is to serve as a catalyst for performance improvement in storage. For a complete list of SPC-1 and SPC-2 Results, visithttp://www.storageperformance.org/home.
About LSI: LSI Corporation (NYSE: LSI) is a leading provider of innovative silicon, systems and software technologies that enable products which seamlessly bring people, information and digital content together. The company offers a broad portfolio of capabilities and services including custom and standard product ICs, adapters, systems and software that are trusted by the world's best known brands to power leading solutions in the Storage and Networking markets. More information is available at www.lsi.com