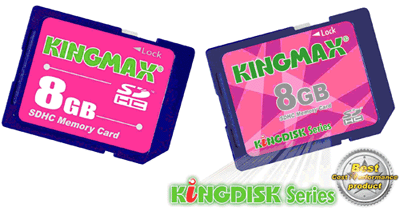 With advances in digital technology, powerful multimedia audio/video functions bring endless fun to everyday living. Today, digital cameras and DV camcorders are capable of recording high definition images, providing us the convenient luxury of eternally preserving that extraordinary moment anytime, anywhere. However, to record these high-definition images, especially the ever-popular 1080P images, large-capacity storage is required, frequently in terms of gigabytes. Thus, storing such massive amounts of data has become an urgent problem to be resolved for many consumers.

Kingmax, the global leader in storage technology, understands consumer needs. Since the official introduction of SDHC by the SD Card Association (SDA),Kingmax has been actively preparing for the new-generation specification (Ver. 2.0) SD card – Secure Digital High Capacity (SDHC) memory card . With the current demand for massive data storage and the growing number of application products (e.g. DV camcorders, DSLR and consumer digital cameras) starting to support the new-generation SDHC specification, Kingmax's SDHC will be primarily targeted at the digital camera and DV camcorder user market in order to meet the multimedia storage requirements of a wide range of consumers.

In comparison to Ver.1.1, Kingmax's new-generation SDHC memory card has more stringent access and electrical specifications, to ensure complete compatibility with all products that support the SDHC specification. In addition, the Ver.2.0 SDHC card has a capacity ranging from 4GB to 32GB , fully meeting the massive capacity requirement for high-quality image and music data storage now and in the future. The SDHC cards are given speed class ratings for their minimum sustained write speed, i.e. Class 2 for 2MB/sec, Class 4 for 4MB/sec and Class 6 for 6MB/sec, which are an improvement over Ver.1.1, ensuring uninterrupted recording and playback of high-resolution images. In the future, the drop in production costs for SDHC memory card could very well make current storage media, such as VCD, DVD and hard disk drives, obsolete. Imagine getting a SDHC memory card when you rent a movie at Blockbuster!
Kingmax's outstanding manufacturing technology, and selected high-specification storage chip and control modules, ensure the superb quality and performance of each SDHC memory card . An SDHC memory card may be the size of a stamp but its high capacity allows you to store thousands of songs, video clips and animation from the Internet, and photos that record those precious moments in life. Get the Kingmax SDHC memory card and you will never want to be without it again!
SDHC digital cameras that are already in the market include Canon S3IS, Nikon Coolpix S5/S6/D80, Pentax Optio M10/W10, Panasonic SDR-S200, Sanyo Xacti DMX-HD1 and Casio Z1000 .
Kingmax SDHC product specifications:

– Member & licensee of SDA
– Compliant with SDMI portable device requirements
– Card capacity up to 8GB
– Speed class: at least class 2 (based on SD2.0 specification)
– Low power consumption