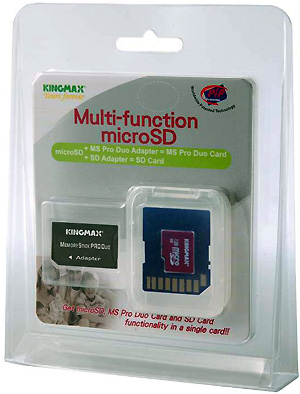 Memory card specifications supported by digital products today vary – digital cameras mainly use SD, mobile phones use microSD, while Sony products only support Memory Stick. Now, Kingmax is offering the new multi-function microSD card to resolve this dilemma – Kingmax Multi-function microSD Card for Easy All-In-One Digital Enjoyment
Kingmax's Multi-function microSD card consists of three parts, microSD, SD Adapter and MS Pro Duo Adapter. When paired with SD Adapter, it is fully compatible with all digital products that can SD cards. And when paired with MS Pro Duo Adapter can be used on all products supporting Sony Memory Pro Duo. Meeting these different specifications, the Kingmax Multi-function microSD card is truly "multifunctional". It can also be used in microSD mobile phones, SD digital cameras/PDAs, PSP game consoles and Sony DC/DV/mobile phones for ultimate digital enjoyment.
microSD is now the mainstream technology specification for next-generation mobile phone memory cards. According to assessments by most research organizations, of all the card phones sold in 2005, 29.5% were for microSD memory card phones. This figure has continued to rise, reaching approximately 45% market share for the first half of 2006. However, the microSD's advantage in size represents a towering technical barrier for many producers. In fact, only a few companies in the world are capable of mass producing large-capacity microSD memory cards, which require advanced packaging and stacking technology. Kingmax, the leading brand in memory cards, is one such company, currently supplying 512MB microSD utilizing cutting-edge SLC to ensure high speed, power saving and long lifespan. Furthermore, Kingmax's proprietary patented PIP technology enables its microSD products to be completely waterproof, shock/fold-resistant, and heat-resistant for greater product longevity.
Kingmax's highly sophisticated technological prowess brings today's hottest memory card –
Multi-function microSD, to most digital platforms, including Sony, providing you with more digital entertainment options!

About KINGMAX
Kingmax is the world's first memory module manufacturer to have its own packaging and testing equipment. It has integrated the comprehensive R&D team and utilizes its vertically-integrated, production flow processes. Therefore, Kingmax is able to continually create unique, high-end patented TinyBGA technology for new-generation DDRII module while guaranteeing consistent, outstanding product quality. Also, it possess the revolutionary proprietary PIP technology for SD and MMC. With their unique packaging produced under a single-step process, durable plugging and unplugging feature, and waterproof, pressure-resistant, and heat-resistant functions, Kingmax's flash memory product has truly become the top choice for enjoying a 'digital' lifestyle. The ability to offer customers rapid-response and professional services has solidified Kingmax's position as a leading international brand.