BUY ONLINE
at ASBIS B2B e-Shop
Get $5 rebate
Get $7 rebate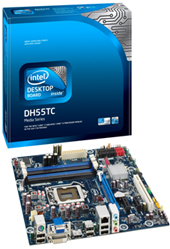 Make it better together with New Core™ 2010. Provide strong support for the all new 2010 Intel® Core™ Family with a promotion on Intel® H55-and Q57-based Desctop Boards.
Intel® offers a $5 rebate on each one unit of a qualifying Intel® Desktop DH55HC/DH55TC and $7 rebate on DQ57TM Intel® Desktop Boards, which are sold to Distributor's customers located in EMEA during the Promotional Period.
The Intel® Desktop Board DH55TC is an Intel® H55 Express Chipset based desktop product in uATX form factor. It offers premium features such as the support of dual-channel DDR3-1333MHz memory with four slots up to 16GBπ, Intel® High Definition Audio with 5.1 surround sound, and integrated Intel® PRO 10/100/1000 Network Connection in a new low power design.
The board supports the Intel® Core™ i7, Intel® Core™ i5, Intel® Core™ i3, and Intel® Pentium® processors in the LGA1156 package. The board is featured with VGA, DVI-D and HDMI connectors and supports dual independent display for processors with Intel® Graphics Technology.

The Intel® Desktop Board DQ57TM supporting Intel® vPro™ technology is designed to bring users an unprecedented ability to remotely maintain, manage, and protect their business PCs. Pair this board with any Intel® Core™ i7 processor or Intel® Core™ i5 processor to get the latest performance in an energy-efficient package. Enjoy features such as dual-DVI video output, DisplayPort* and eSATA port via internal and back-panel connectors, as well as value add software enhancing security and remote management options of your system.

Eligibility Timeframe & Parameters
Timeframe: February 21, 2010 through April 17, 2010
For integration purposes only
Program can be pulled back at any time without notice for budgetary, product availability, or other reasons
Cannot be combined with any other promotional offer (including DPAs), expect the rebate offered under "Intel® vPro Technology Action Incentive" promotion, www.intel.com/go/activate
Intel does not control the price charged by its Distributors – talk to your Intel® Authorized Distributor for a price quotation
Related news about Intel products