For a strictly limited period only, you can save up to $790 when you buy the Intel® Modular Server Kit (chassis and compute node).
To experience the power and performance of Intel's latest Single Processor Server Platform, Intel is announcing a valuable First Time Buyer promotion on a range of UP Systems and boards.
1. Intel Modular Server Kit Offer
Get on track with Modular Server and take advantage of this limited time offer from participating Intel Authorized Distributors.

Eligibility Timeframe & Parameters
Timeframe: 27th September 2009 through 26th December 2009
For integration purposes only
All qualifying SKU purchases (MFSYS25/35 and MFS5520VI /MFS5520) made during the promotion period will count towards the promotion.
No volume limits per Reseller
Open to all Distributor's customers
Program can be pulled back at any time without notice for budgetary, product availability, or other reasons
Cannot be combined with any other promotional or pricing offer
2. Foxhollow Server Promotion
First TimeBuy Rebate Offer. Experiences the cost-effective server-class performance and reliability of platforms designed for Intel Xeon® Processor 3400 Series, with limited time offer available from participating Intel Authorized Distributors.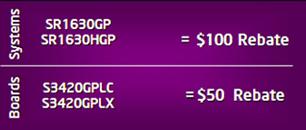 Eligibility Timeframe & Parameters
Timeframe: 27th September 2009 through 28th November 2009
For integration purposes only
All qualifying SKU purchases made during the promotion period will count towards the promotion.
Limited to maximum two rebates per Reseller
Open to all Distributor's customers
Program can be pulled back at any time without notice for budgetary, product availability, or other reasons
Cannot be combined with any other promotional or pricing offer
Eligible products at B2B e-Shop