EonStor® G6 8G FC SAN Featuring Broad Footprint Offerings to Satisfy Diverse Application Requirements
Infortrend®, the networked storage expert, (Public TPE: 2495) today announced the addition of 2U and 4U models to its EonStor® G6 8Gb/s Fibre Channel (FC) SAN solutions. The additional form factors highlight Infortrend's efforts to help more users meet their application requirements. Infortrend's advanced storage systems feature high-speed 8G FC technology, powerful scalability and high reliability.
With Infortrend's enhancements to the EonStor G6 family, four new models – S12F-R1840/ S12F-G1840 and S24F-R1840/S24F-G1840, vindicate Infortrend's leadership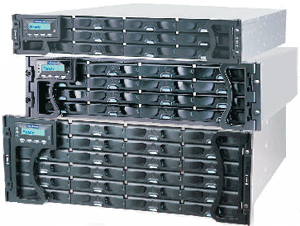 expertise in developing 8Gb/s FC SAN storage systems. All EonStor G6 8G FC-to-SAS/SATA subsystems are powered by Infortrend's proprietary ASIC667 RAID engine and are capable of providing massively scalable capacity by adding expansion enclosures. Equipped with two 8G FC host ports per controller, the systems deliver outstanding performance to process large amounts of data required by throughput-demanding applications. Regardless of the footprint requirement, users can take advantage of the storage systems high scalability and outstanding efficiency to fulfill operational demands in the most cost-efficient way.
To safeguard cached data during power outages, Infortrend has introduced our new CacheSafe® technology for the EonStor G6 offerings. When there is a power failure, the 'Cache Backup Module (CBM)' will write all cached data to the flash backup module (FBM). The Battery Backup Unit (BBU) will automatically supply power for this purpose. Once power is restored, the data in the flash module is written back to the storage system which ensures no data loss.
"Being a leading storage solution provider, Infortrend has set high standards for its product development to ensure that it keeps its leadership position." said Thomas Kao, product planning director at Infortrend Technology. "FC SAN is an ideal solution for applications that need high speed, reliable, highly available and cost-effective information storage. The transition to 8G FC is a natural progression that is now beginning. In anticipation of this, Infortrend is proud to be first in the market to offer 8G FC SAN solutions with complete form factor choices. Users can flexibly integrate them into their current configurations, leveraging state-of-the-art technology to satisfy their operational needs."
More features about Infortrend G6 8G FC SAN solutions
Featuring High Availability (HA) modular hardware design and a high degree of scalability, the EonStor® G6 family is ideally suited for applications where performance and capacity demands are paramount. To enable seamless management locally or remotely over LAN/WAN, all G6 subsystems can be administered, configured and monitored via SANWatch®, a Java-based storage management software developed by Infortrend. This full-function management tool offers user-friendly GUI (Graphic User Interface) and supports simultaneous script-based configuration of multiple subsystems. Coupled with broad support for enterprise-level OS, such as Windows® Server 2008, Solaris®, Linux®, IBM-AIX® and HP-UX®, and server virtualization, such as VMware® and Microsoft® Hyper-V, EonStor G6 models can serve as data storage for top-tier applications. With a strong commitment to Green IT, Infortrend designs the systems with intelligent drive spin-down, dynamic cooling mechanisms and highly efficient power supplies for increased energy efficiency. For more information about Infortrend's complete EonStor series, please visit http://www.infortrend.com/main/2_product/es_s16f-r(g)1840.asp
Infortrend, the networked storage expert, is a pioneer in cost-effective, high performance storage products. The company provides EonStor® storage subsystems and SANWatch® software for virtually all storage interfaces including Fibre Channel, SAS, iSCSI, SCSI and SATA. For over a decade, Infortrend has provided reliable, fault-tolerant technology to prominent ODMs, distributors, and storage integrators worldwide. The company's core competency includes performance optimized RAID ASICs, feature-rich firmware, and redundant, high availability RAID subsystems. Founded in 1993, Infortrend is traded on the Taiwan Stock Exchange (Taiex), ticker number 2495. For more information, visit www.infortrend.com.
More news about Infortrend products: