Deskstar™ 7K1000 Hard Drive Recommended by 25 Leading Industry Publications for Performance and Capacity
HONG KONG – August 1, 2007 – Hitachi Global Storage Technologies (Hitachi GST) today announced that its industry-first one-terabyte* (TB) Deskstar 7K1000 hard drive has achieved nine awards and numerous other top recommendations from leading IT and consumer publications in Asia:

· "Computer DIY Excellent Award" by Computer DIY, Taiwan
· "e-zone Choice" by e-zone, Hong Kong
· "Editor's Choice" and "Excellent Design" by PC DIY!, Taiwan
· "PC Magazine's Editor's Choice" by PC Magazine, China
· "PC Market 2007 Editor's Choice" by PC Market, Hong Kong
· "PC Weekly Recommend" by PC Weekly, Hong Kong
· "PC3 Power Award" by PC3, Hong Kong
· "Tech Excellence Award" by PC Today, Thailand
· Plus high accolodates and ratings from Atomic, Betanews, China Information World, Chip Computer & Coms, Digit, DigiTimes IT, I Love PC, PC Home Advance, PC Magazine, PC Shopper and Tech Spot

With its superior performance, reliability and capacity, Hitachi GST's landmark hard drive has received accolades from a number of publications:
· Australia's Tech Spot was impressed by Deskstar 7K1000's capabilities in the performance department, and said the drive is "an excellent option for those looking to maximize their storage capacity."
· India's Digit commented that Hitachi GST's 1TB drive "provides the ultimate in performance and capacity combined, and is a drive for the mainstream market."
· Hong Kong's PC Market praised Deskstar 7K1000 for its high performance, silent acoustics and low power consumption.
· Singapore's PC Magazine was "absolutely delighted with the overall package offered by Deskstar 7K1000."
· South Korea's Betanews said Hitachi GST's 1TB drive demonstrated "low power consumption and high stability, as well as huge 1TB capacity."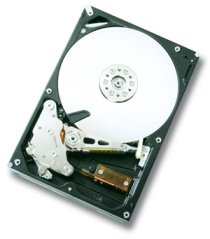 "Hitachi GST broke capacity records with the 1TB hard drive, but capacity alone won't satisfy digital content enthusiasts. With the superior performance and demonstrated reliability, the Deskstar 7K1000 hard drive provides the ideal storage solution for this digital consumer," said Robert Chu, vice president, Asia-Pacific, Hitachi Global Storage Technologies. "The awards and positive recognition that the 1TB drive has received are not only a testament to Hitachi's leadership, but also proof that we have delivered a superior product to our customers."
The 3.5-inch, 7200 RPM Serial-ATA (SATA) Deskstar 7K1000 hard drive is built on the industry's most reliable perpendicular magnetic recording (PMR) technology. Beyond sheer capacity, the Deskstar hard drive meets the performance requirements of consumers with fast data transfer rates, low power and advanced shock protection. This makes it ideal not only for consumer and commercial PCs, but also for media center PCs, extreme gaming machines and external storage devices. The awards and applause confirm Hitachi GST's commitment to designing products that meet the highest quality standards.
* One GB is equal to one billion bytes, and one TB equals 1,000 GB (one trillion bytes) when referring to hard drive capacity. Accessible capacity may be less.
Hitachi GST trademarks are authorized for use in countries and jurisdictions in which Hitachi GST has the right to market the brands. Hitachi GST is not liable for third parties' unauthorized use of Hitachi GST trademarks.

About Hitachi Global Storage Technologies
Hitachi Global Storage Technologies develops advanced hard disk drives to store and preserve the world's valued data. Founded by the pioneers of hard drives, Hitachi GST enables users to fully engage in the digital lifestyle by providing high-value, high-capacity storage in formats suitable for the office, in the home or on the road. With vertically-integrated research, design and manufacturing capabilities, Hitachi GST delivers leadership technology and quality to its global customer-base.
With approximately 33,000 employees worldwide, Hitachi GST offers a comprehensive range of hard drive products for desktop computers, high-performance storage systems and servers, notebooks and consumer devices. For more information, please visit the company's website at www.hitachigst.com.

About Hitachi, Ltd.
Hitachi, Ltd., (NYSE: HIT/TSE: 6501), headquartered in Tokyo, Japan, is a leading global electronics company with approximately 384,000 employees worldwide. Fiscal 2006 (ended March 31, 2007) consolidated revenues totaled 10,247 billion yen ($86.8 billion). The company offers a wide range of systems, products and services in market sectors including information systems, electronic devices, power and industrial systems, consumer products, materials and financial services. For more information on Hitachi, please visit the company's website at http://www.hitachi.com.