Highest memory configuration to Support Intel® Core i7 technology powered systems
Kingston Technology Europe Ltd, a subsidiary of Kingston Technology Company, Inc., the independent world leader in memory products, today announced it is first with DDR3 12GB Triple 1600MHz 12GB triple-channel memory kits, the highest memory configuration currently available in the market.
The Kingston HyperX® DDR3 triple-channel kit of three 4GB modules allows extreme gamers and demanding enthusiasts get the maximum performance out of their Intel® Core i7 and Intel® X58 platforms.
"The new HyperX 12GB DDR3 triple-channel memory kit is for extreme gamers and demanding enthusiasts who want to have their Intel® Core i7 and Intel® X58 based systems reach maximum gaming and digital media content creation performance. For those heavy users we can now confidently offer high-capacity, high-performance memory kits, supporting the high expectations users have in a first-class memory configuration," said Marc Bernier, Kingston Technology. "Our latest kit of three was tested with great success on the Asus P6T Deluxe motherboard and runs at a speedy 1600MHz to take full advantage of the memory controller on the Core i7 processor for high-speed performance."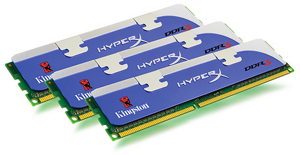 The new Kingston HyperX 12GB 1600MHZ DDR3 triple kit is optimised for XMP, has a latency of 9-9-9-27 and works at the low voltage of just 1.65 volts that is required to safety run Intel's Core i7 system in triple channel mode.
Other kits are available in 3GB and 6GB capacities with frequencies up to 2GHz. Kingston HyperX memory is backed by a lifetime warranty and free 24/7 technical support.
Related news about Kingston products: