BUY ONLINE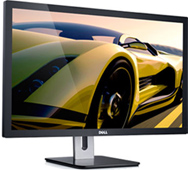 The S series is perfect for consumers seeking a compelling entertainment experience that couples superb aesthetics with powerful performance. Advanced panel technologies support ultra-wide viewing angles, while our new Image Enhance feature improves visual quality. Seamless and intuitive to use, the new monitors will help users tackle creative projects with efficiency. Dell Display Manager also aids productivity with fast access to software such as Auto Mode, which lets you select your preferred preset modes for specific applications.
Beautiful craftsmanship contributes to a seamless viewing experience when watching movies or playing games. S2240L/M and S2340L/M monitors are virtually borderless, while the S2740L and S2440L monitors are almost frameless, with their flushed edge-to-edge glass on a glossy screen.
Designed with you in mind, our panels tilt easily up to 4° forward or 21° backward for maximum comfort. Sit back, relax, and behold vivid cinematic-quality images with full HD 1920 x 1080 (max) resolution in an ultra-wide 178°/178°viewing angle.
Key specifications
S2740L 27" Monitor with LED
27-inch wide (69cm) VIS with LED backlight
Full High definition, 1920 x 1080 at 60 Hz
In-plane switching panel technology
178°/178° (vertical/horizontal) wide viewing angle
8million:1 (typical) mega dynamic contrast ratio
VGA, DVI-D (HDCP), HDMI and USB ports
S2440L 24" Monitor with LED
24-inch wide (61cm) VIS with LED backlight
Full High definition, 1920 x 1080 at 60 Hz
Vertical alignment panel technology
178°/178° (vertical/horizontal) wide viewing angle
High contrast ratio of 5000: 1 (typical)
8million:1 (typical) mega dynamic contrast ratio
S2340L/M 23" Monitor with LED
23-inch wide (58cm) VIS with LED backlight
Full High definition, 1920 x 1080 at 60 Hz
In-plane switching panel technology
178°/178° (vertical/horizontal) wide viewing angle
8 million:1 (typical) mega dynamic contrast ratio
S2240L/M 21.5" Monitor with LED
21.5-inch wide (55cm) VIS with LED backlight
Full High definition, 1920 x 1080 at 60 Hz
In-plane switching panel technology
178°/178° (vertical/horizontal) wide viewing angle
8 million:1 (typical) mega dynamic contrast ratio