Download here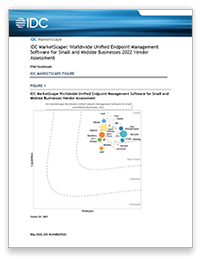 IDC MarketScape Report
At the end of May 2022, IDC MarketScape published its evaluation of UEM software vendors for small and midsize businesses across the world, highlighting BlackBerry in two categories – as a LEADER in Overall UEM and for Ruggedized/IoT Device Deployments, and as a MAJOR PLAYER in the Apple Devices and SMB reports.
The report draws attention to various strong features of BlackBerry's solutions:
BlackBerry's UEM offering meets a wide range of government and industry certifications around security and compliance, including FedRAMP, FIPS 140-2, NIAP Common Criteria, and PCI-DSS, among several others. The UEM product is on the approved vendor listings for a number of U.S. and foreign government organizations as well.
BlackBerry's extensive cybersecurity products portfolio, and the AI technology behind its threat detection and remediation capabilities, provides a powerful tie-in to the UEM solution, especially for use cases requiring continuous authentication and security health checks of endpoint devices accessing corporate data and apps.
BlackBerry's mobile threat management technology integrates with the UEM product to provide a strong management/security endpoint offering for smartphones, tablets, and IoT devices running mobile-centric OSs such as Android.
BlackBerry UEM integrates tightly with the vendor's critical event notification and management SaaS platforms, BlackBerry Alert and BlackBerry AtHoc. This includes pushing specialized, deterministic messages to endpoint devices, as well as integrating with device access control settings and policies to adapt to emergency situations.
This is a great validation of the quality of BlackBerry's UEM product, seamless integration capabilities, and dedication to delivering key customer features.
| | | | |
| --- | --- | --- | --- |
| | To get more information | | |