AOC International (Europe) GmbH proves with the new Verifino range that elegant design and environmental protection are not mutually exclusive. With its innovative technology, this elegant 22" monitor combines powerful and energy saving features.
The slim frame – just 18.5mm wide – packs a real punch: the integrated navigation ring makes it easy to adjust the screen and a 1.3 megapixel webcam and a digital microphone ensure that when running video conferences all transmissions are clear and expressive.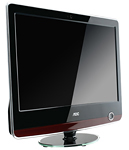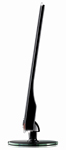 The new WLED (white LED) technology enables the high dynamic contrast ratio (DCR) of 100,000:1. Two high quality loudspeakers and an HDMI connection complete the range of features and make the displays perfect both for demanding domestic and business use.
The frame has a brilliant black, piano varnish look, while the contrasting acrylic strip along the bottom part of the monitor emphasises the elegant design.
All Verifino displays are manufactured in accordance with RoHS guidelines and are very sparing on energy. The packaging is 100% recyclable. AOC is thus also supporting the aims of 'Green IT'.
AOC International (Europe) GmbH, located in Berlin, is a subsidiary of TPV Technology Limited, currently the world's largest manufacturer of computer monitors and LCD screens. The product array features more than 100 different CRT and LCD devices. AOC International (Europe) has more than 70 distributors selling monitors in 20 different countries. TPV is listed on the stock exchange and has its headquarters in Hong Kong. Shares are traded in Hong Kong and Singapore.