December 10, 2012, Moscow – Research In Motion (RIM) (NASDAQ: RIMM; TSX: RIM) today announced plans to expand its retail presence in Russia providing greater access to all the market-leading messaging, social networking features and apps that the BlackBerry® solution offers, allowing more customers in Russia to share life as it happens.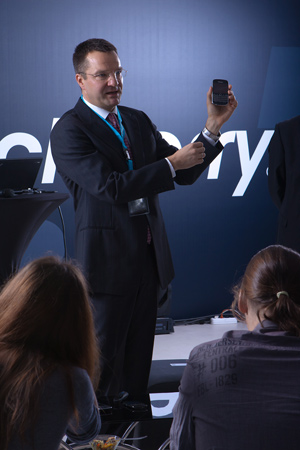 RIM announced plans to expand its retail presence in Russia
The expansion was made possible through collaboration with ASBIS Group, one of the leading distributors of consumer and professional electronics in Eastern Europe and the Middle East. The partnership means select BlackBerry smartphones will become available in thousands of Russia's leading mobile retailers across the country.
Alexey Krutitsky, Executive Partner Affairs Director, ASBIS Russia, said: "We are excited to be Research In Motion's distributor in Russia. RIM products are very popular among both enterprise and private customers. Organisations benefit from the high security of the BlackBerry platform and wide array of special business applications, and consumers enjoy the slick OS and rich functionality of the BlackBerry experience. BlackBerry holds the number one smartphone position in many markets around the world and I believe our partners will be delighted that they can start offering BlackBerry products to their customers."
"We are excited to be further expanding our retail presence in Russia with ASBIS Group," said Oleg Orlov, Regional Director, Russia and Eastern Europe, Research In Motion. "BlackBerry has already established itself in the Russian market by offering a smartphone experience that people love. We're confident our Russian customers will enjoy the greater access to the rich messaging services and benefits available on BlackBerry smartphones afforded by this important partnership."
The partnership will open the Russian market for the BlackBerry® Bold™ 9900, the BlackBerry® Bold™ 9790 in black and white, and the BlackBerry® Curve™ 9360 smartphones. The smartphones offer the best keyboards in their class for quick and easy typing and customers can easily interact with their social network in real time, using preloaded apps for Facebook® and Twitter®.

Available BlackBerry smartphones:
The BlackBerry Bold 9900 is the thinnest BlackBerry smartphone yet at only 10.5mm, and the first to offer the perfect union of a high performance full QWERTZ keyboard with a highly responsive touch display in the iconic BlackBerry Bold design. The handset is powered by BlackBerry 7® OS, which also features voice-activated Universal Search, support for augmented reality (via Wikitude), as well as additional premium personal and productivity apps out of the box.
The BlackBerry Bold 9790 smartphone is powerful, full-featured and built with premium materials and finishes. It combines a high-resolution and highly responsive touch display with a highly tactile keyboard and a precise optical trackpad.Its narrow design is easy to carry and exceptionally comfortable to hold. With the BlackBerry 7 OS and a powerful 1 GHz processor, the BlackBerry Bold 9790 delivers a fast, smooth performance when web browsing, running apps, working with documents, and enjoying multimedia. It includes 8GB of onboard memory and an expandable memory card slot that supports up to 32 GB of additional storage.
The BlackBerry Curve 9360 smartphone is easily pocketable and feels "just right" in hand. The BlackBerry Curve 9360 smartphone runs on BlackBerry 7 OS and a powerful processor for super-fast web browsing. For additional information about the availability of BlackBerry smartphones in Russia, please visit: blackberry.ru
About Research In Motion (RIM)
Research In Motion (RIM), a global leader in wireless innovation, revolutionized the mobile industry with the introduction of the BlackBerry® solution in 1999. Today, BlackBerry products and services are used by millions of customers around the world to stay connected to the people and content that matter most throughout their day. Founded in 1984 and based in Waterloo, Ontario, RIM operates offices in North America, Europe, Asia Pacific and Latin America. RIM is listed on the NASDAQ Stock Market (NASDAQ: RIMM) and the Toronto Stock Exchange (TSX: RIM). For more information, visit www.rim.com or www.blackberry.com.
Forward-looking statements in this news release are made pursuant to the "safe harbor" provisions of the U.S. Private Securities Litigation Reform Act of 1995 and applicable Canadian securities laws. When used herein, words such as "expect", "anticipate", "estimate", "may", "will", "should", "intend," "believe", and similar expressions, are intended to identify forward-looking statements. Forward-looking statements are based on estimates and assumptions made by RIM in light of its experience and its perception of historical trends, current conditions and expected future developments, as well as other factors that RIM believes are appropriate in the circumstances. Many factors could cause RIM's actual results, performance or achievements to differ materially from those expressed or implied by the forward-looking statements, including those described in the "Risk Factors" section of RIM's Annual Information Form, which is included in its Annual Report on Form 40-F (copies of which filings may be obtained at www.sedar.com or www.sec.gov). These factors should be considered carefully, and readers should not place undue reliance on RIM's forward-looking statements. RIM has no intention and undertakes no obligation to update or revise any forward-looking statements, whether as a result of new information, future events or otherwise, except as required by law.
The BlackBerry and RIM families of related marks, images and symbols are the exclusive properties and trademarks of Research In Motion Limited. Research In Motion and BlackBerry are registered with the U.S. Patent and Trademark Office and may be pending or registered in other countries. Wi-Fi is a registered trademark of the Wi-Fi Alliance. All other brands, product names, company names, trademarks and service marks are the properties of their respective owners. RIM assumes no obligations or liability and makes no representation, warranty, endorsement or guarantee in relation to any aspect of any third party products or services.
About ASBIS
ASBIS Enterprises PLC is one of the leading distributors of computers, components, peripheral devices, software and accessories in Europe, Middle East and Africa Emerging Markets (EMEA). The Group distributes over 15.000 SKU from leading global IT-vendors including Intel, AMD, Seagate, Western Digital, Hitachi, Microsoft, Samsung, Dell, Acer, Hitachi, Apple (in certain countries) and more.
ASBIS was established in 1990. The company's headquarter is located in Cyprus. Today ASBIS is one of the fastest growing companies of Central and Eastern Europe. The company gives jobs to over 1240 employees. ASBIS's structure includes three master distribution centers located in the Czech Republic, the United Arab Emirates and China. Its network consists of 47 stock points located in 29 countries and local offices serving customers in approximately 86 countries.