Press-release
Limassol (Cyprus), July, 2010 – ASBISC Enterprises PLC, an expert in the IT products distribution to the EMEA emerging markets, has received from Dell Inc. (DELL), a well-known PC manufacturer, exclusivity rights for distributing its new 5" tablet - Dell Streak in 11 countries of the EMEA region.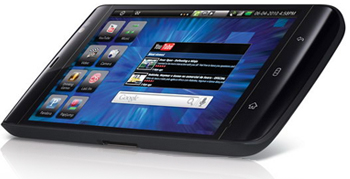 Dell Streak 5-inch Android-based tablet is an ultimate device designed to provide everything you need "on-the-go". It offers entertainment, social network communication, constant connectivity and navigation while being portable and convenient. The extensive scratch-resistant 5-inch screen is ideal for browsing the web, reading and sending emails, watching movies, downloading and listening to the music, uploading to the web, playing games and much more. 5MP rare-facing camera is the greatest chance to take high-resolution pictures & videos. Built-in Wi-Fi, Bluetooth and 3G/GSM connectivity allow hi‐speed information access that makes surfing the web an entirely new experience, more interactive and convenient.
Streak introduces users to a world of thousands Android Market widgets, games and applications with the power to enrich people's lives. On top of that it can be used as an ordinary mobile phone for voice conversations and sending SMS/MMS messages. The integrated 1GHz processor provides fast multitasking performance with low battery consumption. It is more portable than a laptop and it is more convenient than a collection of gadgets. Customers trust DELL to deliver technology solutions that help them do and achieve more, whether they're at home, work, school or anywhere in their world.
Dell Streak will be available from August for a retail price of €599.
About ASBIS
ASBISc Enterprises PLC (WSE: ASB) is based in Cyprus and specializes in the distribution of IT products from worldwide leading manufacturers such as Intel, Seagate, Western Digital, AMD, Samsung, Microsoft, Toshiba, Dell, Acer and Hitachi. Asbis has own subsidiaries in 26 countries, more than 1,000 employees and 32,000 active customers in over 70 countries worldwide. For more information visit the company's website at www.asbis.com.
About DELL
DELL Inc. is a multinational information technology corporation based in Round Rock, Texas, United States, that develops, sells and supports computers and related products and services. For more than 26 years, Dell has empowered countries, communities, customers and people everywhere to use technology to realize their dreams. The company is one of the largest technological corporations in the world, employing more than 96,000 people worldwide. For more information visit the company's website at www.dell.com.