Microsoft Electronic Software Delivery (ESD)
What is ESD?
Electronic Software Delivery (ESD) is a digital delivery of a product key directly to consumers and small businesses via reseller, retailer and e-tailer partners.
Key features of ESD
24/7 availability of the product
Secure and seamless delivery in a few minutes
Product is ready for use immediately after digital delivery
All benefits of a Box product.
Business opportunity for resellers
Higher long-term profitability vs Box software
Quick costless delivery and no stocking expenses
Fast access to the product
Full assortment of premium Microsoft SKUs without old stock issues
Cross sell and up-sell with hardware devices
Digital products bring the opportunity for extended digital marketing
Online ordering and automated processing allow to run sales on 24/7 mode
Microsoft Office 365 is a great product for cross sell and up-sell. PC, Notebook, tablet or smartphone with any OS installed - Windows, iOS or Android - it could be used on all of them. This is famous Microsoft Office but sold in the subscription model. With all the latest applications and 1TB of OneDrive cloud storage provided the Office 365 is the best offer with any device chosen by a customer. Microsoft Office 365 will bring you even more earnings due to regular renewals.
End user benefits
End user will receive email from Microsoft with product key and link to download the product image
All benefits of Box product
No physical media, purchased content available via direct download
The product license can be moved to the new PC or Mac
Software can be instantly activated after purchase
Automated End-to-End process. How it works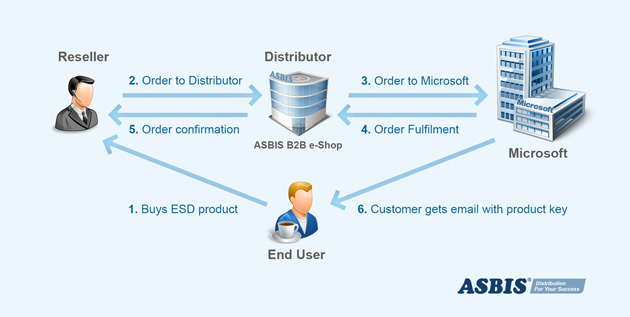 Digital distribution models
Ordering via ASBIS B2B e-shop

Purchase ESD product key via ASBIS B2B e-shop. Immediate delivery after order verification. Product key could be passed to integrator/reseller or product key could be emailed directly to end customer. Upon order processing partner gets order confirmation.
API implementation for e-tailer B2C e-shop

End customer purchases Microsoft ESD product in B2C e-shop. Full integration via ASBIS API allows to proceed order automatically. End customer will receive email with product key and instructions. E-tailer will get the order confirmation.
API implementation for retail chains: Print to Receipt (PTR)

This integration will allow your customers to get product key at the cash desk on purchase receipt.
To learn more about integration for retail, please, contact us.


Dear Partners,

Microsoft ESD products is a great opportunity to grow your business!
A full Office suite is not included on most new devices – recommend an Office suite with every device sale. Customers want Office but they are 5x more likely to purchase Office only if you recommend it.
Talk to your customers and promote it. Save your time, offering products with an instant availability and a few minutes delivery.

Implement API integration with ASBIS B2B e-shop and process your orders automatically. Your customers will appreciate easy and secure purchases with an instant delivery from your B2C shops.

Digital distribution of Microsoft ESD products were successfully implemented by ASBIS partners in all three channels across different countries. Our partners, who implemented API integration and started ESD sales have acquired leading places in electronic software sales and grew revenue rapidly. Catch the opportunity now!
Contact ASBIS Experts in your country today to get more information about ESD business with ASBIS.